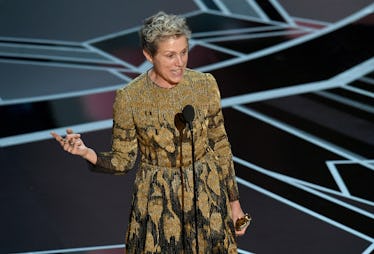 Frances McDormand's Oscars Acceptance Speech Was The Most Moving Moment Of The Night
Kevin Winter/Getty Images Entertainment/Getty Images
Frances McDormand just dropped the mic at the 2018 Oscars with the most bad ass speech of all time. As you can see in the video of Frances McDormand's 2018 Oscars acceptance speech, she made it about so much more than herself. After winning the Best Actress award for her amazing performance in Three Billboards Outside Ebbing, Missouri, McDormand took to the stage to give another fiery acceptance speech.
Clearly in shock, the actress opened by saying that winning an Oscar is what "Chloe Kim must have felt like after she did back to back 1080s" at the Olympics. McDormand quickly collected herself and launched into the bulk of her speech, insisting that she's "got some things to say." And boy, did she have some things to say.
In an unprecedented move, McDormand asked all the female nominees to stand — not just the female nominees in the Best Actress category, but the female nominees in every category. Nominees like Meryl Streep, Rachel Morrison, Greta Gerwig, and Octavia Spencer stood up as the crowd cheered wildly and celebrated their achievements. "OK, look around everybody," said McDormand, "because we all have stories to tell and projects we need financed ... Invite us into your office in a couple days, or you can come to ours, whichever suits you best, and we'll tell you all about them." The female nominees were incredibly moved by her words, especially Margot Robbie and Allison Janney, who teared up as they hugged each other.
McDormand finished her acceptance speech with a powerful phrase, but many were confused by she meant by it. "I have two words to leave with you tonight: inclusion rider," she said before curtsying and leaving the stage. As someone not super familiar with the ins and outs of the industry, I had a hard time figuring out whether she was saying "rider" or "writer." Seriously, at first, I thought she said "inclusion writer," and I was like, "Yeah, it's super important for screenwriters to be diverse and inclusive!" Not my finest hour.
When I finally realized that she said "inclusion rider," things made a little more sense. An inclusion rider is a document that actors can sign to guarantee a certain level of gender and racial diversity in a project. This type of contractual note isn't a requirement by any means, but as Time's Up and #MeToo becomes a rallying cry for women in the industry, it's easy to see why McDormand and other prominent actors would be in favor of them.
McDormand's speech was the perfect way to end an awards season that had a much deeper meaning than previous years. From the foundation of the Time's Up campaign in early January to the all-black Golden Globes to Emma Stone's comment about the four male Best Director nominees "and Greta Gerwig," the 2017-2018 awards season has paid particular attention to what it's like to be a woman — and particularly a woman of color — in the entertainment industry. Of course, sometimes the industry didn't get things right (ahem, Ryan Seacrest, ahem), but women understood that meaningful progress was finally being made on the path to equality. McDormand's Oscars speech was so perfect because she addressed both the reality of where #MeToo and Time's Up are now and the places the movement can go if people in power remain committed to supporting it.
Yes, there are certainly things that Hollywood can improve upon. And yes, the low number of female nominees is an issue that needs to be fixed ASAP. But if women continue to invite other women to stand with them, as McDormand did in her speech, things can only go up from here.