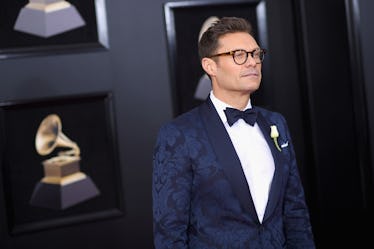 Twitter Has A Lot To Say About Ryan Seacrest Hosting The E! Red Carpet For The Oscars
Dimitrios Kambouris/Getty Images Entertainment/Getty Images
Ryan Seacrest has been the mainstay of the Oscar red carpet on E! since what feels like the dawn of time. It usually wouldn't feel like awards season if he wasn't on our TV screens, bantering via satellite with his longtime co-host Giuliana Rancic in between celebrity interviews. This year, however, the media mogul's scheduled appearance on E! caused a stir when, just days before the live red carpet event, details of sexual harassment allegations made by his former personal stylist back in November were made public. (Seacrest denies the allegations.) Despite the controversy, E! kept Seacrest on board for its red carpet lineup, and tweets about Ryan Seacrest hosting the E! red carpet show fans and celebrities are already vocalizing their opinion on the matter.
As reported by Variety, stylist Suzie Hardy began working for Seacrest in 2007 when he co-anchored E! News. A November 2017 letter sent from Hardy's attorney to both E! and its parent company, NBCUniversal, that details Hardy's alleged experiences with Seacrest was published by Variety on Feb. 26, 2018. Though the allegations were first made against Seacrest in November, the Variety report was the first time details of the accusations were revealed publicly. Hardy claims that Seacrest made unwanted sexual advances towards her during the time they were working together, which Hardy allegedly allowed in order to provide for her young daughter, according to the letter.
Seacrest initially called Hardy's claims "reckless allegations," and she has since come forward with more details of her alleged encounters, prompting an official statement from Seacrest on Feb. 27, 2018:
Yesterday, Variety published a salacious story that revealed the specific claims against me for the first time — even though an independent third-party investigator found insufficient evidence to support the claims. Much to my dismay, Variety didn't speak with me or bother to speak with other credible witnesses or even ask for any of the evidence that was obtained during the investigation when offered, all of which clearly challenged the veracity of the claims made against me.
This person who has accused me of horrible things offered, on multiple occasions, to withdraw her claims if I paid her millions of dollars. I refused. I have worked extremely hard to achieve my success and I don't take my opportunities for granted. I don't want to accuse anyone of not telling the truth but in this case, I have no choice but to again deny the claims against me, remind people that I was recused of any wrongdoing, and put the matter to rest.
For many, it was surprising that E! decided to keep Seacrest in charge of its red carpet coverage. The network released its own statement explaining the decision, saying that its investigations about Hardy's claims were "extremely comprehensive and thorough."
Over the course of a two-month process, our outside counsel interviewed more than two dozen people regarding the allegations, including multiple separate meetings with the claimant and all firsthand witnesses that she provided. The investigator is an attorney with nearly 20 years experience and is highly regarded professionally. Any claims that question the legitimacy of this investigation are completely baseless.
The network also reportedly planned a 30-second delay to its live red carpet coverage to filter any potentially controversial interview moments, according to The Hollywood Reporter. E! did not officially confirm the news, with a spokesperson saying:
As always, we tape multiple sources of content simultaneously to deliver the best possible show, and there are often brief delays between interviews.
While Page Six claims that publicists purposely veered their celebrity clients away from Seacrest on the red carpet, backlash about Seacrest's presence on Twitter alone would have been enough to completely isolate the host:
Such fury from viewers emerged online before Seacrest had even spoken to any major celebrities. The E! red carpet kicked off with Seacrest and Rancic greeting each other from their separate interview spots as always, and their exchange even involved a poorly timed shoutout to Seacrest's own clothing line.
However, throughout the first hour of the red carpet, Rancic was notably onscreen more than a usually solo Seacrest was.
Nearly a full hour into live coverage, Seacrest nabbed an interview with songwriter Diane Warren, nominated for Best Original Song this year. The interaction was brief, and watchers on Twitter seemed to focus more on her outfit choice than her interview. Thus, more footage of Rancic discussing potential winners and after-party meals commenced.
Seacrest's worry likely diminished a tad when his Live with Kelly and Ryan co-host Kelly Ripa arrived alongside her husband, actor Mark Consuelos. Ripa, who publicly supported Seacrest on their show, might have been a friendly face for the host, but their interaction also seemed even shorter than red carpet interviews usually are. Her interview also broke Seacrest's streak of speaking to a string of musicians earlier during the event.
Though Twitter had a lot to say about Seacrest, celebrities who stopped to chat with him kept silent on the allegations. While we may have missed out on an epic clapback from a actress during an interview with Seacrest, it's clear that people on Twitter were sending a distinct message of their feelings about the allegations against the longtime host.