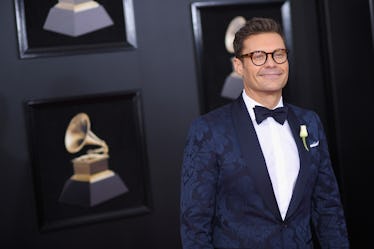 Ryan Seacrest Accused Of Sexual Abuse & Harassment In Letter By Former Stylist
Dimitrios Kambouris/Getty Images Entertainment/Getty Images
A November letter from Suzie Hardy's attorney was published by Variety on Feb. 26 detailing her sexual abuse allegations against Ryan Seacrest. Hardy, a former stylist of the television personality, accused Seacrest of sexual abuse and harassment and spoke with Variety exclusively about the case.
UPDATE 2: According to The Hollywood Reporter, Seacrest gave the following statement on Tuesday, Feb. 27, in response to Variety's story:
Yesterday, Variety published a salacious story that revealed the specific claims against me for the first time — even though an independent third-party investigator found insufficient evidence to support the claims. Much to my dismay, Variety didn't speak with me or bother to speak with other credible witnesses or even ask for any of the evidence that was obtained during the investigation when offered, all of which clearly challenged the veracity of the claims made against me.
This person who has accused me of horrible things offered, on multiple occasions, to withdraw her claims if I paid her millions of dollars. I refused. I have worked extremely hard to achieve my success and I don't take my opportunities for granted. I don't want to accuse anyone of not telling the truth but in this case, I have no choice but to again deny the claims against me, remind people that I was recused of any wrongdoing, and put the matter to rest.
UPDATE: Seacrest's representatives provided Elite Daily with the following statement from Seacrest's lawyer, Andrew Baum, which was also published by Variety:
It is upsetting to us that Variety is electing to run a 'story' about untrue allegations that were made against my client, after they were told that the accuser threatened to make those false claims against him unless he paid her $15 million. At that time, the claimant threatened to issue a demonstrably false press statement unless she was paid. Instead, my client proactively and publicly denied the claims and agreed to fully cooperate with E!'s investigation about the matter ... On January 31st the network notified us that their independent third-party investigation had concluded that there was insufficient evidence to support her claims, effectively, clearing my client's name. It's telling that after my client refused to pay her money, and the E! investigation resulted as it did, that she is now coming forward to share her debunked story to the press.
Hardy also gave the following statement to Variety:
As proud as I am and as strong as a woman as I am, as smart as I am and as much work as I've done with therapists, it really affected me.
EARLIER: On Nov. 17, 2017, Seacrest denied Hardy's claims and called them "reckless allegations" on his radio show. He said, "I dispute these reckless allegations and I plan to cooperate with any corporate inquires that may result."
E! began an investigation after Hardy's attorney, Howard King of King, Holmes, Paterno & Soriano, LLP, demanded they "come up with a plan to address the treatment of all women at the networks and to take responsibility for the wrongful treatment" of Hardy. Hardy's lawyers also threatened the network with "more formal action."
Hardy reportedly worked for Seacrest at E! in 2006 until her employment ended in 2013. The stylist claims that during her time at E!, she suffered numerous incidents of harassment, including Seacrest allegedly putting his hand on her crotch. In the letter, Hardy's team claims that Seacrest took a romantic interest in Hardy, and that's what motivated his alleged actions. Hardy also claims that Seacrest would give her expensive gifts, including a $1,000 gift certificate to a spa.
Hardy claimed to Variety,
I didn't know how to deal with it. I really didn't. I was battling finally being in a decent financial position to breathe and be a mom, that I didn't have to be freaking out all the time, and then dealing with this infantile celebrity person who was testing me on every level and manipulating me and knew that I was in a vulnerable position.
According to The Hollywood Reporter, Seacrest's full November statement reads:
Recently, someone that worked as a wardrobe stylist for me nearly a decade ago at E! News, came forward with a complaint suggesting I behaved inappropriately toward her. If I made her feel anything but respected, I am truly sorry. I dispute these reckless allegations and I plan to cooperate with any corporate inquiries that may result.
He added,
I treat all my colleagues with kindness, dignity, and understanding, as this is a principle that's core to who I am. Throughout my 25 years in the entertainment industry, the majority of my co-workers have been women, and I've endeavored to foster a positive work environment of mutual respect and courtesy, as that's how I believe it should be. I'm distraught that anyone or any situation would call that into question. I'm proud of my workplace reputation, and believe my track record will speak for itself. I'm an advocate for women. I will continue to support their voices.
Three months later, E! concluded their investigation and reportedly found "insufficient evidence to support the claims against Seacrest." E!'s full statement at the time read, "E! has now concluded the investigation into allegations regarding Ryan Seacrest. The investigation, conducted by outside counsel, found insufficient evidence to support the claims against Seacrest and therefore could not be substantiated."
A spokesperson from E! told Variety, "E!'s investigation was extremely comprehensive and thorough. Over the course of a two month process, our outside counsel interviewed more than two dozen people regarding the allegations, including multiple separate meetings with the claimant. The investigator is an attorney with nearly 20 years experience and is highly regarded professionally. Any claims that question the legitimacy of this investigation are completely baseless."
Hardy, who claims she was interviewed three times by a private investigator about the allegations, gave the following response to the conclusion of the investigation:
Total exasperation was my definite feeling when I heard about it. I felt like by the third interview, it was obvious the investigator was whitewashing it for Seacrest's side.
She also claimed the investigator never contacted the witnesses she had given him.