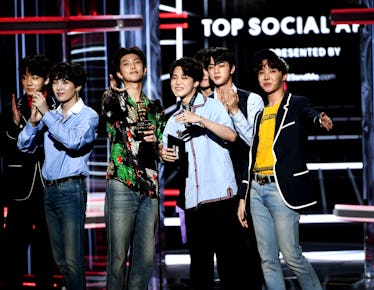 Japanese BTS Fans Planned The Most Moving Tribute To BTS At Their Concert Last Night
Kevin Winter/Getty Images Entertainment/Getty Images
Usually, the most challenging thing BTS ARMY has to deal with when it comes to their faves is having to wait longer than 24 hours for the next concert, TV performance, or social media post that will deliver their next Bangtan Boys fix. But this past week has been challenging for other, more serious reasons. In the lead-up to kicking off the final Asian leg of their Love Yourself world tour, an old photo of one of the members wearing a controversial T-shirt reemerged that resulted in the cancellation of a planned appearance on Japan's Asahi's Music Station, leaving Japanese and international fans reeling. In the aftermath of the cancellation, international ARMY have grappled with how to respond to the controversy, but this video of fans singing "For You" to BTS in Japan shows just how much they love and respect the band.
In late October, an old photo from 2017 of BTS member, Park Jimin, wearing a T-shirt celebrating Korea's liberation from Japanese rule during World War II reemerged, drawing criticism over its depiction of an atomic bomb being dropped on a Japanese city on it. In response to the controversy, Japan's Asahi's Music Station announced the cancellation of BTS' planned Nov. 9 appearance in a statement on their website.
Meanwhile, Asahi's Music Station's cancellation drew flak, with critics asserting that BTS is getting pulled into the crosshairs of South Korea and Japan's longstanding tense political relationship. Those critics point out that the timing of the cancellation hints that it was less to do with Jimin's t-shirt (which he wore over a year ago) and more to do with an October South Korean supreme court verdict. The verdict ruled that Japan's Nippon Steel & Sumitomo Metal Corp needed to compensate Koreans for forced wartime labor during WWII, which reportedly reignited political tensions between the countries. Elite Daily reached out to Asahi's TV for comment on the motives behind the cancellation but did not hear back by the time of publication.
Muddying the waters, another photo from BTS' 2014 photoshoot with CéCi magazine reemerged, which depicted RM in a camouflage army hat with a Nazi symbol on it. Big Hit Entertainment later addressed the hat controversy, clarifying that they did not choose the wardrobe involved in the CéCi photoshoot, but take responsibility for it, nonetheless, and apologize for any hurt it caused fans.
In the wake of all the controversy, and new calls from human rights groups for BTS to apologize, fans expressed hopes that BTS and Big Hit Entertainment would address the controversy directly, but that wouldn't come for a few days.
As they waited for Big Hit to respond, fans got to work expressing their undying love for BTS. In Japan, tons of fans were waiting at Haneda Airport to welcome the boys to their country with open arms as they arrived on Nov. 10.
Meanwhile, international fans, led by the fan account @btschartdata, kicked off #ProjectBuy23, an initiative to have fans all over the world spend $1-$2 on purchasing the boys' track "2!3!" in an effort to have the boys see it chart on iTunes.
I-ARMYs fell in line and the initiative was an overwhelming success, with "2!3!" hitting #1 on the iTunes singles chart in 26 countries.
The track made it into the top 5 in the U.S.
But the most moving fan effort definitely goes to the J-ARMYs who attended the boys' concert on Nov. 13. Using social media, they planned to sing a song from the boys' 2016 Japanese album, Youth, called "For You" as they waited for the boys to come out on stage. And let me tell you, these ARMYs should just be inducted into the band right now, because they sounded beautiful.
Towards the end of the concert, after all the fans had done to show their love for the boys, Jimin ended his performance of "So What?" by shouting, "I love you guys!" to the audience and collapsing onto the floor.
Later, in his closing speech, Jimin addressed the crowd, alluding to the recent controversies while expressing his love for Japanese fans and his hopes that they would not let the controversies affect them or their relationship with the band.
According to a fan translation of the moment, Jimin said, "I feel that a lot of circumstances have caused not just ARMY here but also everyone else all over the world to be surprised and concerned. It truly hurts my heart. I believe that there will be a lot of opportunities for us to meet from now on. I don't think I'll be able to forget today's first Tokyo Dome concert we had with all of you. I'm really happy to be with all of you ARMY here. I would be happy if you too could feel happy from watching us. Thank you so much for today. I really love you! Thank you!" Elite Daily reached out to Big Hit for confirmation on the English translation of Jimin's speech, but did not hear back by the time of publication.
Sure enough, Big Hit Entertainment followed suit, addressing the controversies head-on in a statement released on Twitter and Facebook.
In a statement first released in Korean, and then in English and Japanese, Big Hit not only apologized for the CéCi photoshoot, as mentioned above, but also for any hurt the atomic bomb imagery on Jimin's shirt may have caused victims of the use of atomic bombs. Finally, they expressed a renewed commitment to being sensitive to all social, historical, and cultural backgrounds so that this never happens again. You can read their entire statement below.
It's great to see that BTS and Big Hit Entertainment do not take the feedback they get from their concerned fans lightly and are committing themselves to be even more sensitive in the future. But it's also so amazing to see that the BTS ARMY's confidence in them (and their ability to do what is right) never wavered. It's a good day for BTS and the BTS ARMY.