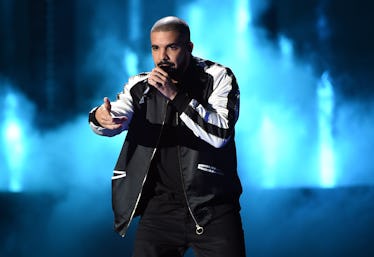 Drake Went Off On A Male Fan Who Was Harassing Women At His Concert – VIDEO
Kevin Winter/Getty Images Entertainment/Getty Images
I feel like it's pretty common knowledge at this point that Drake loves and respects women. Last week, we learned he literally has been collecting Birkin bags to give to his future wife, even though he has no idea who that might be. And he's famous for making music about being in love/wanting to be in love badly. So it should come as no surprise that Drake lost his cool at one of his concerts when he saw a male concertgoer harassing women in the audience. This video of Drake yelling at a male fan for touching women at a concert in Sydney, Australia is just the pick-me-up you need today if the world is getting you down.
In the video, Drake is seen singing the iconic line, "I was running through the 6 with my woes," when he stops halfway through the line to call out the alleged harasser. He says, "If you don't stop touching girls, I will come out there and f*ck you up." And the crowd goes wild. Drake continues to talk off the mic, seeming to being making intense eye contact with the guy, saying he wasn't "playing." The crowd cheered (a lot), and then Drake got back to the music.
More of this, please.
Drake recently was interviewed by The Hollywood Reporter about his career, his life, and his goal to start working in TV and film again. It was in this interview that he revealed his collection of Birkin bags that he's been working on for years for the woman he "ends up" with. I don't even know what Birkin bags are, but if Drake wanted to give them to me, I would stan. When asked what was one thing people would be surprised to learn about him, Drake responded,
I'm a fan of Hermès Birkins. You know, there's very few things in this world, tangible things anyway, that hold their value and sort of appreciate as the years go on. So, it was one of those things that I started collecting as well for the woman I end up with one day. So I have a fairly vast collection of Hermès to offer somebody at some point in life.
He also revealed his favorite show on TV right now is Ozark, the Breaking Bad-like Netflix original series starring Jason Bateman and Laura Linney. He said Ozark is his favorite show because, "My taste in television or movies is always kind of similar to my approach to music, which is, I like when people really hit the nail on the head with real human emotions."
He also raved about his mother, Sandi, in the interview, because we've already established that Drake thinks women are the greatest beings on earth. He said his mom always pushed him to go after what he wanted and that he appreciates her for being such an independent woman (his parents divorced when he was a toddler). He said, "My mother is an incredible woman. She never necessarily implemented anything. She's always just told me, 'You know, whatever you want to do, whatever you end up being, I'll always love you. I'll always support you.'"
With the massive flood of sexual assault allegations in Hollywood coming out ever since The New York Times opened the floodgates with their exposé of Harvey Weinstein's alleged decades-worth of harassment toward women, it's good to see Drake setting an example of the zero-tolerance policy literally every single person on earth should have when it comes to witnessing sexual harassment/assault. Drake will take care of the people who deserve it, but he's not here for anyone who feels it's OK to harass women. Bless.