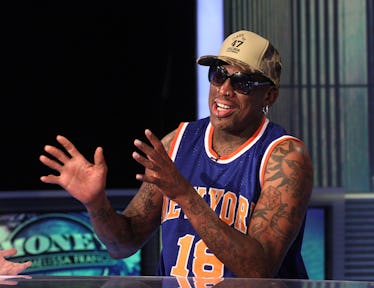 Dennis Rodman's Interview About Trump & Kim Jong-Un Got So Emotional & It's Wild
Laura Cavanaugh/Getty Images Entertainment/Getty Images
There's so much that's just downright baffling about the diplomatic efforts to bring together Donald Trump and Kim Jong-un, I shouldn't be surprised at seeing anything else outrageous. But this is 2018, and the wildness bar can always be raised. As President Donald Trump and North Korean dictator Kim Jong-un met in a historic summit on June 12, the most prominent expert that the United States has on Kim, former NBA star Dennis Rodman, weighed in on CNN. And let me tell you, the video of Dennis Rodman's CNN interview about Donald Trump and Kim Jong-un is seriously wild.
With Trump and Kim meeting to discuss the denuclearization of the Korean Peninsula, everyone is wild to know what to expect. Rodman, who has been friends with Kim for years, was in Singapore for the historic summit (though not in an official role). In the almost 15-minute interview, Rodman, who was wearing sunglasses, a red MAGA hat and a shirt advertising a cryptocurrency, talked about his experiences in North Korea and offered his take on Kim, before breaking down in tears over his history of being disparaged for his relationship with North Korea, including, he said, receiving death threats. "I knew things were going to change," he said. He continued,
I knew it. I was the only one, no one to hear me, no one to see me. But I took those bullets, I took all of that. Everybody came at me, and I am still standing. And today is a great day for everybody, Singapore, Tokyo, China — a great day.
Rodman also paused partway through the interview, asking interviewer Chris Cuomo, if he could thank a few people, including Eddie Vedder of Pearl Jam and his kids. "My kids, they're still with me after all these years," he said, while Cuomo listened awkwardly.
But Rodman also offered insights into Kim's mind, calling the North Korean leader "like a big kid" and noting that he spoke "bits and pieces" of English. "If you talk about basketball?" Rodman said. "Yes, he understands that." Rodman also suggested that Kim wasn't used to "hearing someone that's trustworthy," and unaccustomed to people fulfilling their promises. He added his take on how the meeting could go well:
If Kim Jong-un and Donald Trump understand that if we sit there and have a comfortable relationship, smile, laugh and joke, great. It doesn't have to be war.
For some people, the all-over-the-place interview was just another example of the roller coaster that is international relations in 2018. Who would have thunk that Dennis Rodman would be the foremost expert on the biggest diplomatic meeting of the year?
And some people reminded us all that for all the ups and downs of the interview, there was a reason that CNN invited Rodman on, and it's because he has something important to say.
And it's true. While we might have a good idea of what Trump's personality and temperament is like — after all, he clues us in on Twitter pretty much every day — Kim is a little more of a mystery. After all, the majority of what we've seen of the enigmatic North Korean leader is via state media or official statements. But there's one person who really would have insight, and that's Rodman. The two met in 2013, when Rodman went with the Harlem Globetrotters to participate in a basketball exhibition there. The former NBA star and the current dictator apparently hit it off, and Rodman told Kim that he had a "friend for life."
Rodman also took a lot of heat for his relationship with the dictator, given North Korea's human rights abuses, and some questioned the ethics of giving North Korea the good press of a famous face.
But now? Now, it's 2018, and everything is topsy-turvy. As baffling as this all is, it looks like Rodman's experience with Kim is coming in handy.