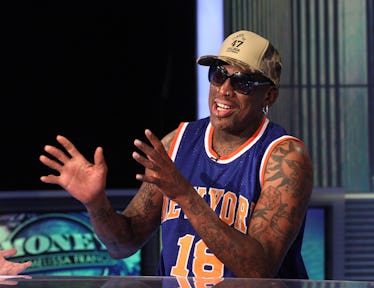 This NBA Star Might Go To Singapore For Trump's North Korea Summit, & Just, What
Laura Cavanaugh/Getty Images Entertainment/Getty Images
President Donald Trump's impending meeting with North Korean dictator Kim Jong-un has already gotten off to a weird start, and it's about to get weirder. Because Dennis Rodman might go to the North Korea meeting in Singapore as well, according to a report from the New York Post. But why would this former NBA player be attending such an important summit?
Trump and Kim have scheduled their historic summit for June 12 in Singapore, which is just one week away. As far as I was concerned, only Trump and members of his cabinet were set to attend the meeting. But, the Post reports, Rodman may also be in Singapore for the summit. According to the report, he'll arrive a day before the meeting on June 11, although it was not clear whether he actually intended to be present at the historic meeting between Trump and Kim.
But according to a statement from Rodman's rep, Darren Prince, a Singapore trip hasn't officially been scheduled yet for the former basketball star. "He's talked about it, but no final trip or plans have been made," he said, per the Post. On the other hand, Prince also told the Post that Rodman would be willing to go and participate if his relationship with Kim proved helpful.
The prospect of Rodman attending this summit might sound a bit strange. But if you know the history that Rodman has with Kim it kind of makes sense that he could be present at the meeting.
Rodman first visited North Korea in March 2013 along with the Harlem Globetrotters, where the team participated in a basketball exhibition (that also featured North Korean players) in Pyongyang. Rodman called the dictator a "friend for life" during that trip, and has since visited the country on five separate occasions. He even sang "Happy Birthday" to the dictator while on one of his trips, which is just bizarre to watch.
Rodman's become sort of an unofficial ambassador for the United States to North Korea over the years, and he has said that he's has a particular impact on Kim in terms of accepting Trump. During his fifth visit to the country, Rodman gifted Kim with a copy of Trump's The Art of the Deal for the dictator's birthday in 2017. In an interview with TMZ, Rodman said, "I think Kim didn't realize who Donald Trump was at that time, I guess, until he started to read the book and started to get to understand him."
But Rodman insists that he can't take all of the credit for warming the dictator up to the president. "I don't want to take all the credit. I don't want to sit there and say, 'I did this, I did that.' That's not my intention," he told TMZ. "My intention was to go over and be a sports ambassador to North Korea so people understand how the people are in North Korea."
Funnily enough, Rodman and Trump have some history as well, as Rodman was a contestant on The Celebrity Apprentice 2 back in 2013. He was actually fired by Trump for failing to spell his wife Melania Trump's name correctly. In 2014, Trump attacked Rodman in a series of tweets, calling him "crazy" and "drunk or on drugs" for suggesting that they'd be going to North Korea together. My how the tides have turned, and oh the irony.
Rodman's relationship with Kim is still pretty puzzling, and the basketball player gets asked about the nature of their friendship fairly frequently. In an interview on The Late Show with Stephen Colbert in December 2017, Rodman told the host simply, "Well, for some reason he likes me." Rodman went on to explain,
I'm not protecting him. People think I just sit there and say, 'Hey, he's my best friend.' No, that's not the case. He just treats me as a friend.
I don't know if the affection that Kim apparently has for Rodman has had any influence on his decision to agree to meeting with Trump, but all signs are pointing to... maybe? Knowing this information, doesn't it sound likely that Kim might want to have his American liaison (of sorts) present at that meeting? It doesn't sound like a bad idea, in my opinion.