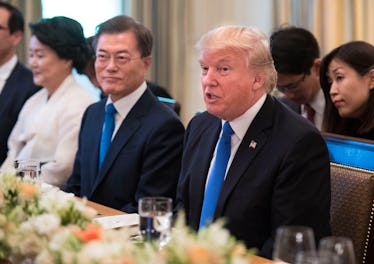 Trump Says His North Korea Meeting "May Not Work Out" & I'm Worried
Pool/Getty Images News/Getty Images
About two months ago, it was reported that President Donald Trump intended to meet with North Korean President Kim Jong-un in a historical summit. The meeting was orchestrated to welcome negotiations regarding the denuclearization of the Korean Peninsula. Well, it appears that those plans may be on the rocks. So is Trump meeting with Kim Jong-un? His latest comments on the matter signal that it may not happen.
Since the original reports of the meeting were published on March 9, the likelihood that it'll actually happen and the success of the meeting has been questioned. Trump, however, has appeared to be determined to make it happen, and even announced via Twitter on May 10 that the summit will be taking place in Singapore on June 12. "We will both try to make it a very special moment for World Peace!" Trump tweeted, appearing to be very eager and excited about the impending summit.
But in his latest statement to the press from the Oval Office, Trump has cast yet another shadow of doubt on the summit. Trump and South Korean President Moon Jae-in met in Washington D.C. on May 22 to discuss the impending U.S. summit with North Korea. Trump told reporters that there's a chance the summit "may not work out for June 12."
"We're moving along. We'll see what happens," said the president, according to TIME. "If it doesn't happen, maybe it will happen later."
Trump has been touting his engagement with North Korea's leader as one of his major diplomatic achievements as president. On April 20, the president tweeted that Kim Jong-un agreed to suspend nuclear testing and shutter a major test site. "This is very good news for North Korea and the World — big progress! Look forward to our Summit," the president stated. That summit was set to be the landmark event in Trump's diplomatic achievement with the nation.
The initial positive rhetoric that came out of Pyongyang regarding the summit has taken a concerning negative turn. Originally, it was reported that Kim was reportedly "committed to denuclearization." But on May 16, North Korea threatened to cancel its meeting with Trump if the U.S. intended to push denuclearization on Kim. North Korea's vice foreign minister Kim Kye-gwan said that "if they [U.S.] try to push us into the corner and force only unilateral nuclear abandonment, we will no longer be interested in that kind of talks and will have to reconsider whether we will accept the upcoming NK-US summit," per a translation from CNN.
Kim had also scheduled a meeting with the South Korean president, but that was abruptly cancelled on May 15, just one day before the talks were scheduled to take place. The cancellation came a day before North Korea threatened the U.S. summit as well, but the meeting between Kim and Trump has not yet been formally cancelled. Despite this, the actions taken against South Korea in terms of peace negotiations with their northern counterparts signals a threat to the U.S. summit as well.
These latest comments from Trump regarding the North Korean summit further question whether or not the the meeting will actually happen. Although Trump assures there's still a good chance that it will happen, Kim is clearly unpredictable and there are no guarantees here. However, I'm going to choose to remain optimistic, because it's all I can really do at this point.
I'll give Trump some credit, though. Suspending nuclear testing is a pretty great step forward for North Korea in my opinion. But in terms of ramping up negotiations with Pyongyang, the future for complete denuclearization isn't looking too bright.