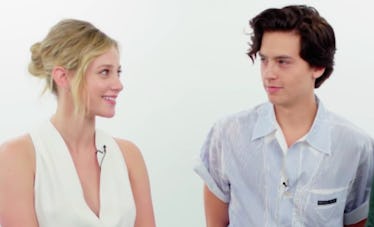 Cole Sprouse & Lili Reinhart Just Revealed What They Love About Each Other On Camera
YouTube
It's no secret that the cast of Riverdale is a tight-knit group. To prove how much they really love and know each other, they took a "friendship test" consisting of hugging, trust falls, complimenting each other, and just producing that supportive sh*t I like to see. KJ Apa, Cami Mendes, and Charles Melton couldn't make it to the shoot, so the remaining cast is separated into two groups: Lili Reinhart, Cole Sprouse, and Casey Cott in one, and Madelaine Petsch and Vanessa Morgan in another. And the video of Cole Sprouse and Lili Reinhart complimenting each other will tug at your heartstrings this fine September morning.
"Cole is one of the smartest... the smartest person that I'm friends with," Reinhart starts off saying. Friends... sure, Lili. *winks* She continued, "He's incredibly passionate about art, about photography, about acting, and I really admire that."
Sprouse started off by saying, "Lili was a tough egg to crack. She's very shy at first and reserved. And I think it was about halfway into the first season she started letting people in truly." Then he got even deeper, "She's one of those people that consistently pushes me to be better at the arts that I'm pursuing. That's just the kind of person she is. She inspires excellence out of everybody she works with." If you two don't cut this, out I'm going to start crying all over my laptop.
The compliments Sprouse and Reinhart had for each other were wonderful, but the whole cast had touching things to say about each other that will make the video worth watching from start to finish.
Watch this, and then call your best friend and tell them you love them. That is not a request.
When Glamour asked Reinhart what her first impression of Sprouse was, she said, "I thought his voice was annoying... That was my first impression. I was like, 'That guy's got an annoying voice.'" Then she blushed and said, "And now it's grown on me, I guess."
After having to hug each other for a full minute, the cast members were told to write down compliments about each other. If you don' want to hear a group of good friends talk about how much they love each other, click out now, because you're not gonna like this.
Casey Cott said Reinhart makes him laugh so hard it makes him pee, which is what all friends should do for each other, TBH (don't make it weird), then added that when he makes her laugh it makes his heart smile. Brb, Imma go text that exact sentence to my best friend real quick.
Reinhart said of Sprouse, "Hard worker, because I've seen you edit your photos after a photo shoot and you spend hours and hours editing them to the best of your... you're very your own harshest critic." She continued, "And I said you're very loyal to your family, because you are." (He's very loyal to trolling Dylan Sprouse on Twitter, that's for sure.)
Then Sprouse got into his compliments for Reinhart and I want to throw up from all the love. "Maybe your mother inspired this in you," he said, "but you are, by nature, a caretaker, and an extremely nurturing person." He continued, "You just want to make people feel better and help people get through whatever they're getting through. And I think that's a really admirable quality in someone."
This was Reinhart's face as Sprouse said that. Same.
Once all of the compliments had been given and all of the ~love~ had been spread, Reinhart said, "I feel very sad now... like I would like to cry. But, like, in a good way. It just makes me realize how much I love the people that I work with." God damn it. Now I'm crying.