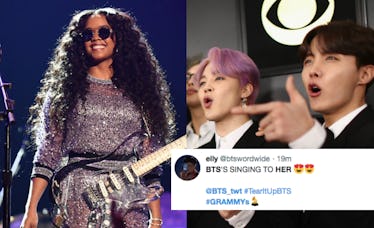 Twitter Is Fangirling Over BTS Singing Along With H.E.R. At The Grammys
Emma McIntyre/Getty Images Entertainment/Getty Images/Rich Fury/Getty Images Entertainment/Getty Images
Everyone's favorite K-pop group, BTS, is in attendance at the Grammys this year, and though they're not performing, they're still stealing the show. During H.E.R.'s Grammys performance, the camera panned over to where the boys were seated, and they were totally singing along and jamming out to the Grammy-nominated performer's set. This video of BTS singing with H.E.R. at the 2019 Grammys is making ARMYs so happy — and for a good reason.
H.E.R., who is nominated for five Grammys, performed "Hard Place" at the 2019 awards. She rocked the stage with a clear guitar, a sequined outfit, and her signature sunglasses. The singer and musician's first-ever Grammys performance was met with incredibly positive reviews, not only on the Twitterverse but by so many audience members, including BTS. When the camera cut from H.E.R. to the BTS boys, they were seen singing along, bopping their heads, and smiling wide. In fact, BTS singer V, also known as Taehyung, was waving and fanboying during H.E.R.'s song.
The BTS ARMY reacted to the footage instantly. One Twitter user, @oblitaerated, went as far to suggest a future collab between H.E.R. and V and TBH, I stan. The tweet said:
It ain't a coincidence that taehyung has a smooth voice fit for r&b and H.E.R dominates the genre in the west with her soothing register. their raspy silky voices combined would LITERALLY increase pregnancy rates. a taehyung x H.E.R collab is just meant to BE. #TearItUpBTS
Here's a look at V being a true H.E.R stan.
Many members of the BTS ARMY noted how adorable it was that the boys were jamming along.
H.E.R. received five nominations at the 2019 Grammys: Best R&B Performance, Best Album of the Year, Best New Artist, Best R&B Song, and Best R&B Album. In a stroke of luck, BTS was slated to present the award for Best R&B album and many fans on Twitter were noting that that might mean an IRL interaction between the BTS boys and H.E.R., which would truly be the highlight of the evening. And, guys, it happened. And it was glorious.
Though BTS won't be joining H.E.R. on stage, the boys were actually (sort of) also nominated for a Grammy this year. Their album Love Yourself: Tear was nominated for Best Recording Package, and its a pretty huge deal for an American institution to recognize a K-pop group for a major award. To celebrate their first Grammys, the BTS members posted a video of themselves to the official BTS Twitter waving and smiling on a plane with a caption that said, "Let's Go!! Grammy." They also posted some photos on the day of the awards.
Their adorable interaction with H.E.R. wasn't BTS' only shining moment. The K-pop group also had a sweet moment on the red carpet ahead of the show when they told Ryan Seacrest: "It's a blessing that we can get so much love for doing what we love to do. We are so thankful." Same, BTS. Same.