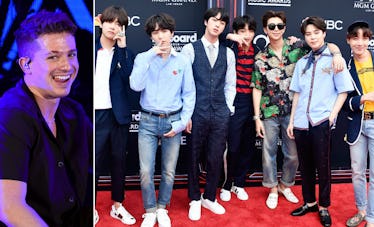 BTS & Charlie Puth's MGA Awards Performance Is Too Amazing To Put Into Words
Kevin Winter/Getty Images; Frazer Harrison/Getty Images
Alright, everyone! The 2018 MBC Plus X Genie Music Awards just went down and BTS took to the stage with Charlie Puth. And believe me when I say that their performance was all kinds of amazing. Now, if you missed the performance and want all the details, I've got them all right here for you. And let me tell you, this video of BTS and Charlie Puth's MGA Awards performance is going to blow your mind, so read on because I'm going to give you the entire rundown.
Before I get to the performance details, though, let me just say that all the guys looked and sounded amazing! Not that you expected any less, I'm sure. In any case, here's how it went down. First, Charlie Puth took the stage to sing "See You Again" solo. So, the performance started off on a great note! Then, Jungkook joined Puth for a brand new rendition of "We Don't Talk Anymore" that will seriously make your heart flutter. But that wasn't all. After that, all the members of BTS hit the stage with Charlie to perform a stripped-down, piano version of "Fake Love" that proves these boys sound amazing no matter what they're singing.
Here are the boys arriving on the red carpet looking, as I said, amazing:
And here's the boys' epic joint performance with Charlie, including Puth and Jungkook totally gushing about each other's music.
Later in the show, the boys hit the stage one last time for an epic mashup of their songs "Save Me," "I'm Fine," and, of course, "IDOL." Best of all, Jungkook was dancing at 150% after weeks of being out of commission due to injuring his heel while on tour in Europe.
This is the very first time BTS and Puth have been on stage together and it was epic! Seeing so many incredible artists on one stage was truly an amazing moment, especially if you're a die-hard fan of these guys. This was also the first time Puth and the guys of BTS got to show their mutual admiration for each other.
Check them out posing for a pic before the show:
BTS' love for Charlie Puth's artistry goes way back to 2015 and they've reiterated their respect for him as a musician time and time again. In June 2017, Puth declared his love for BTS as well in an interview with Filipino music channel MYX Philippines.
"I like BTS. I like Jungkook, too," he said. "I think they are a fantastic band. I want to meet them in person one day and apologize to Jungkook for misspelling his name."
So, the MGA collaboration between Puth and BTS has been a long time coming. And now that it's happened, fans are going wild over it. They can hardly contain their excitement and their tweets are solid proof of that.
Here's what all the Charlie Puth and BTS fans are saying on Twitter right now:
Fans even spotted a beautiful moment between Puth, Jimin, and Jungkook as they exited the stage where they all embraced in a hug and literally hopped off stage.
And the cherry on top to such an amazing night was the fact that the boys took home not one, not two, not even three, but seven awards for Best Male Dance Performance, Genie Music Popularity Award, Best Male Group, Best Digital Album of the Year, Best Artist of the Year, Best Choreographer (for Son Sungdeuk) and Best Producer (for Bang Sihyuk) by the end of the night. It's truly a huge accomplishment.
The collaboration between Puth and BTS was first announced by MGA's organizers on Monday, Oct. 29.
"The group BTS and the American singer-songwriter Charlie Puth are preparing to stage a collaboration performance at the 2018 MGA," they said in a statement, according to Soompi.
As you can imagine, that set all the BTS and Puth fans into high gear and they've been nothing but ecstatic ever since. Now that all the guys have finally gotten on stage together, the fans are satiated. For now, at least. With any luck, BTS and Puth will come together for another collaboration sometime in the future (an original song, maybe?). Until then, fans will just have to rewatch their MGA performance over and over!