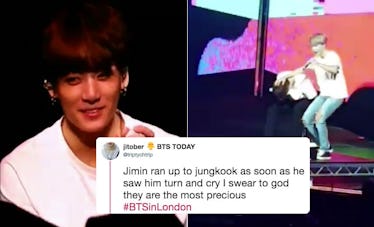 Jungkook Cried At BTS' Concert Over An Injury, But BTS Comforting Him Is Friendship Goals
Twitter
Something tragic happened yesterday, ARMY: BTS' Jungkook injured his heel backstage right before BTS was meant to perform their Oct. 9 concert at London's O2 Arena as part of their Love Yourself world tour. Although BTS' maknae still hit the stage with his bandmates, he was confined to a chair for most of the concert. Trust and believe, that was more than enough for fans who were more concerned about his health than seeing him jam out to "Idol" (let's be real: just seeing Jungkook breathe can send the ARMY into hysterics). But what was tragic is that Jungkook was clearly heartbroken that he couldn't perform for UK ARMY, and the video of Jungkook crying at BTS' London concert is what truly broke fans' hearts more than anything. But when you see how Jungkook's bandmates — Jimin, RM, V, Jin, Suga, and J-Hope — comforted him throughout the night, you'll be moved to tears at their undeniable bond!
OK, so here's what happened: Shortly before BTS was set to hit the O2 Arena stage, their management, BigHit Entertainment, announced that Jungkook had been injured slightly while stretching backstage after soundcheck and wouldn't be able to dance at their performance that night as a result. The statement read, in part,
Jung Kook was lightly stretching in the waiting room when he collided with floor furnishings and suffered an injury to his heel. Medical staff immediately responded and performed the necessary treatment. The opinion of the medical team is that while the injury is not serious, performing choreography may do further damage to the injured area. Following the advice of the medical staff, Jung Kook will take part in the performance tonight but remain seated without choreography.
Obviously, fans were only concerned about Jungkook's well being, and those who were already in the arena when the announcement was made didn't miss a beat, chanting Jungkook's name in support before the group even came on stage.
Once BTS did hit the stage, Jungkook put on a brave face, singing and dancing in a seated position throughout the show, and having as much fun as possible.
But toward's the show's finale, the fact that he couldn't put his all into the performance seemed to get to Jungkook. During their performance of "Anpanman," he actually turned his seat away from the crowd and began crying — something Jimin, who was all the way at the end of the extended stage, couldn't just stand by and watch. Fan videos from the performance show Jimin abandon his "Anpanpan" choreography to run all the way to Jungkook, give him a supportive smile, and dance alongside him to cheer him up. Then V joined them because he couldn't sit by and watch JK in pain, either.
When the show finally ended, Jungkook was clearly distraught over the fact that he wasn't able to dance throughout the show, under the impression that he had let his fans down. During the boys' goodbyes, Jungkook actually broke down in tears as he thanked fans for their support and promised to try his best not to let something like this happen again. It was truly a heartbreaking moment for fans who were too far away to wrap him in a hug like they wanted to.
Jungkook definitely didn't let fans down. RM comforted Jungkook as part of his goodbye speech, telling Jungkook and the crowd, "Sometimes, good things happen, bad things happen, some unexpected things in life happen, so I want to say — it's never your fault, Jungkook. Of course, we feel a little sorry and sad for today's things, but we did our best."
But leave it to Jimin to get the fans in on things to show Jungkook just how much he is loved. During his goodbye speech, he explained that he didn't want Jungkook to go home and cry. "I know you all are worried about Jungkook," Jimin began. "But then if Jungkook goes home today like this today, he's just gonna go back and he's just gonna cry. You had fun, right? So when I say 1, 2, 3, say 'I love you Jungkook!'"
The crowd was more than ready to oblige and screamed their love for Jungkook as he cried and thanked them earnestly.
By the end of the night, Jungkook was trending worldwide on Twitter — that's how much good vibes were being sent his way from all around the globe.
Could this band of besties be any more supportive?! As heartbreaking as it was for fans to watch Jungkook in so much pain, the show of love and support from his bandmates was a testament to exactly why the ARMY loves BTS so much. And in the end, BTS' London concert will go down as one of their best simply because of that fact.