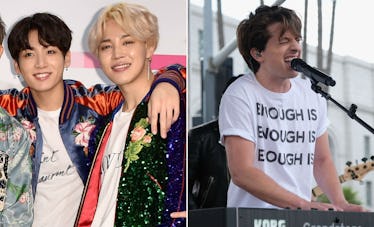 BTS & Charlie Puth Will Perform Together At This Korean Awards Show, So Fans Have Feelings
Alberto E. Rodriguez/Getty Images; Sarah Morris/Getty Images
It may be a Monday, but it's a good Monday, you guys. Because news just dropped about a hot new BTS collab and lemme tell you, it sounds like it is gonna be straight fire. Are you ready? BTS will be performing with Charlie Puth at the inaugural 2018 MGA Awards! YASSSSS! And not only that, but BTS is nominated in all four grand prize categories — Artist of the Year, Song of the Year, Best Selling Artist of the Year, and Digital Album of the Year — which means it's going to be a pretty exciting show. So, uh, what are the MGA Awards? Don't worry — I so don't blame you for not knowing what the MGAs are because I totally didn't, either. And that's because this award show is basically brand new!
See, back in August, MBC Plus and Genie Music announced that they were joining forces to hold the 2018 MBC Plus X Genie Music Awards on Nov. 6 at Namdong Gymnasium in Incheon, South Korea. The event will feature performances from top K-pop groups as well as collaborations with other artists. Oh, and get this: fans will also be able to participate with special events and stages.
Sounds pretty cool, right?
Now comes the BTS/Charlie Puth collab reveal, and that totally takes things to another level. MGA organizers first announced that BTS and Charlie Puth would be performing together during the ceremony on Oct. 29.
"The group BTS and the American singer-songwriter Charlie Puth are preparing to stage a collaboration performance at the 2018 MGA," a rep said, according to Soompi. And, like, bring it on, guys. Bring, It. On!
The collab isn't actually all that surprising, given BTS and Charlie Puth's long history of showing each other some major love on social media. Let's roll back to Oct. 2015 for a sec, when BTS tweeted out a link to Kehlani and Charlie's joint cover of Drake's "Hotline Bling":
Fast forward to Feb. 2017, and BTS publishes a cover of Charlie Puth's single with Selena Gomez, "We Don't Talk Anymore."
How good does Jungkook sound on those vocals? So good, apparently, that's when Puth took to his own Twitter to give the singer/songwriter a shoutout.
"Love this Juncook," he reportedly wrote, before deleting it shortly afterward due to his misspelling of Jungkook's name, according to MTV. But a month later, Puth was at it again, tweeting out "I really like BTS's music." And BTS responded in kind:
To drive that point home, in June 2017, BTS shared another cover of "We Don't Talk Anymore," this time with Jimin jumping in to duet with Jungkook.
I don't know about you guys, but I totally ship this whole love affair, misspelled names and all.
Speaking of which, on June 1, 2017, Puth did a phone interview with Filipino music channel MYX Philippines, where he was asked about his love for BTS, especially Jungkook.
"I like BTS. I like Jungkook, too," he said. "I think they are a fantastic band. I want to meet them in person one day and apologize to Jungkook for misspelling his name."
Looks like he may finally get his chance when the two hit the stage together on Nov. 9!
Whether or not they will be performing Puth's hit "The Way I Am" — which also happens to be Jungkook's go-to traveling tune — or "We Don't Walk Anymore" is still TBD.
In the meantime, watch him perform a line from it here:
At the moment, it's unclear if there will be any streaming options for ARMY outside South Korea to tune into the MGA Awards, but all we can do for now is hope that someone will upload this sure-to-be epic collaboration performance on YouTube for the masses to enjoy!