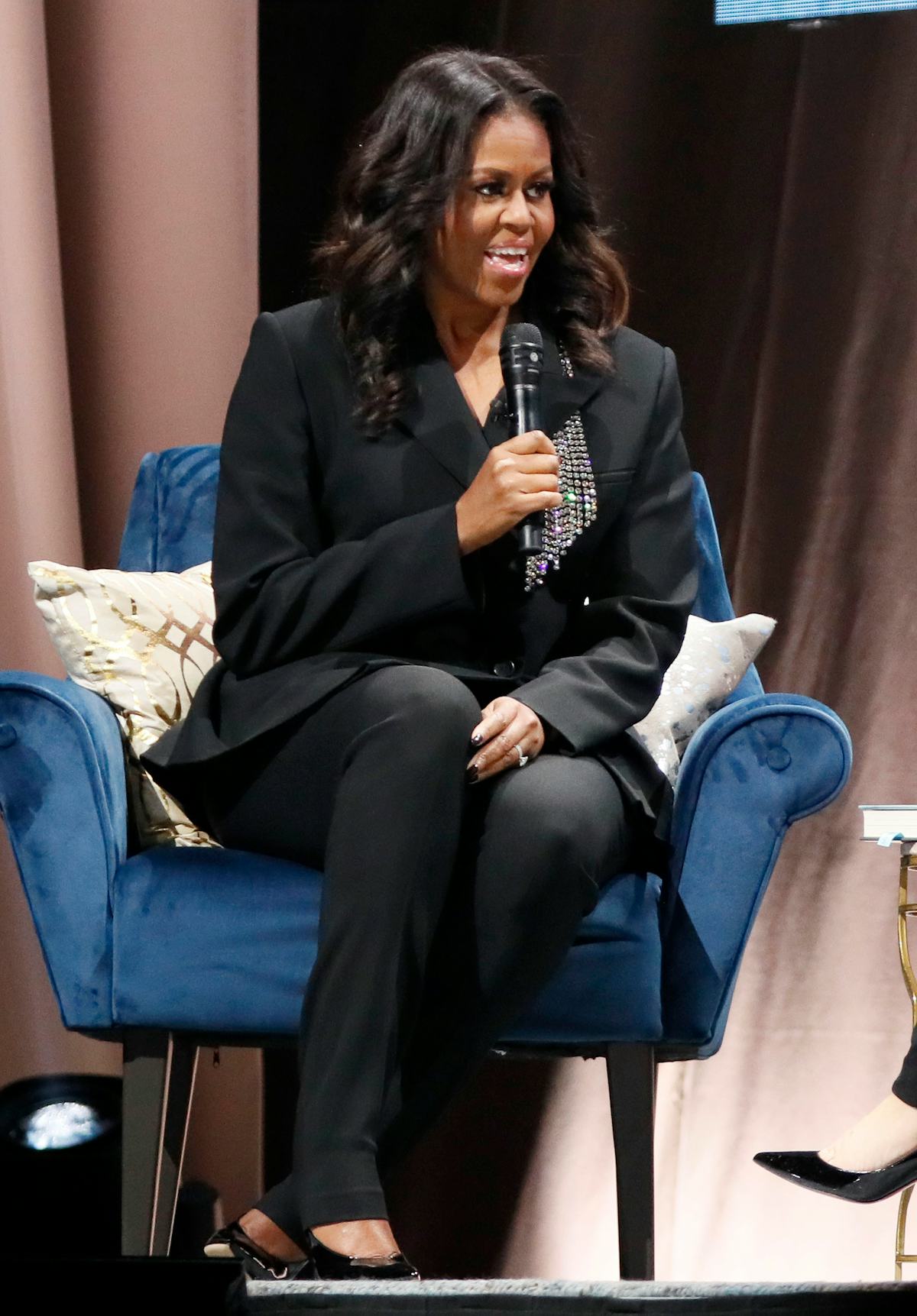 Barack Obama Gave Michelle The Sweetest Surprise On Her Book Tour
Paul Morigi/Getty Images Entertainment/Getty Images
If there's one thing that seems clear about the Obamas, it's that this couple has a strong bond. During a stop in Washington D.C. for her book tour, they proved it, when former first lady Michelle Obama received a surprise visit from none other than her husband President Barack Obama. This video of Barack Obama surprising Michelle — with roses! — on her book tour stop is total #RelationshipGoals and will make you yearn for the days when these two lived and worked in the White House as POTUS and FLOTUS.
The 44th president made the touching gesture at a Nov. 18 event in Washington, D.C. for the book tour for his wife's memoir, Becoming, per NBC News. The event, a public conversation between Michelle and former Obama advisor Valerie Jarrett, touched on several topics — but when the conversation made its way to the relationship between the first couple, Jarrett announced a "special" guest, and that's when the former president made his move. Smooth.
Obama appeared on the stage with a bouquet of pink roses for his wife, as the audience went wild. Obama compared himself and his wife to another famous couple. "This is like when Jay-Z comes out during the Beyoncé concert?" he said "Like, 'Crazy in Love...It's the same thing. It's just a little sample to enhance the concert." The power couple's comparison to another power couple had the crowd going wild.
Before her husband's on-stage surprise, Michelle had told the audience her story about growing up, falling in love, balancing career and family, and the pressures that came with being the first lady for eight years and the first Black woman in that role, all topics she touches in her new memoir Becoming.
If you can't get enough of the Obamas and their adorable antics, you might consider picking up a copy of Michelle's memoir Becoming. She talks about personal things, like her first impression of Obama and how her husband proposed to her, but also touches on some more delicate topics like how the she and her husband got couples counseling to save their marriage and how they used fertility treatments to conceive their children, Malia and Sasha. She also writes about the current political climate and compares the Obama administration to the Trump administration. Unsurprisingly, when asked about the memoir, current President Donald Trump said Michelle had written it to be controversial. He told reporters:
I guess she wrote a book. She got paid a lot of money to write a book. And they always insist that you come up with controversial — well, I'll give you a little controversy back. I'll never forgive him [Barack Obama] for what he did to our United States military. By not funding it properly, it was depleted.
Representatives for the White House and the Obamas did not respond to Elite Daily's requests for comment on Trump's remarks.
But Trump's supposed analysis of why Michelle wrote her memoir didn't have much impact on the book's sweeping success across the United States. According to Barnes & Noble, Becoming is the fastest selling book of 2018 and even beat out Bob Woodward's first week of sales for his book Fear, which was a look at the Trump Whitehouse from the journalist who uncovered Watergate. In fact, the book sold over 725,000 copies on its first day alone, according to Penguin Random House, and pre-sales for the book were higher than any other book in the last three years. Whether Barack is on-stage to surprise her with roses or not, Michelle is a clearly serious powerhouse with years of success ahead of her — for her memoir and beyond.