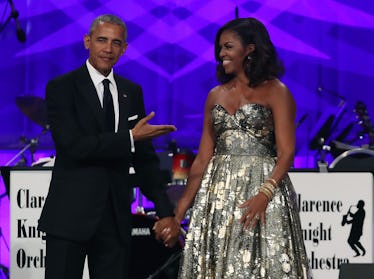 Michelle Obama Shared How Barack Proposed, & It Was Just As Perfect As You Think
Mark Wilson/Getty Images News/Getty Images
Barack and Michelle Obama are one of the sweetest couples on Earth. It seems like they grow more in love every day, and they're constantly singing each other's praises, which is exactly what I hope my relationship looks like as my partner and I grow older. Seriously, The Obamas seem to have the kind of relationship that inspires all kinds of #relationshipgoals, and honestly, looking at how Barack Obama proposed to Michelle only further proves that to be true. These two are total life goals, in every way.
In case you missed it, Michelle Obama recently released her new memoir, Becoming, and it's already become a huge hit. (Sorry, couldn't resist.) But along with all the powerful anecdotes the former First Lady wrote about in her book, she shared a super sweet one, too. Looking back at how her now-hubby asked her to marry him, she explained that for a while, Barack wasn't a big fan of marriage. In fact, according to BuzzFeed, one night at dinner they were discussing marriage, and Barack was again reportedly balking at the entire idea.
He reached for my hand and said that as much as he loved me with his whole being, he still didn't really see the point.
Yikes, that's not exactly what you'd want to hear if you had marriage on the brain, is it?
But fortunately for Michelle (and Americans everywhere), 44 had something pretty spectacular in mind. Buzzfeed reports that as she argued her side of the case, she told her future husband, "If we're committed, why wouldn't we formalize that commitment? What part of your dignity would be sacrificed by that?" She goes on to describe their argument, saying:
We weren't fighting, but we were quarreling, and doing it attorney-style. We punched and counterpunched, dissected and cross-examined, though it was clearly I who was more inflamed. It was I who was doing most of the talking.
All this was going down in a nice restaurant, so when their waiter delivered a silver dessert tray, Michelle wasn't too shocked.
Describing what happened next, she wrote:
Eventually our waiter came around holding a dessert plate, covered by a silver lid. He slid it in front of me and lifted the cover. I was almost too miffed to even look down, but when I did, I saw a dark velvet box where the chocolate cake was supposed to be. Inside it was a diamond ring.
Cue those violins now, people! That's right, President Obama proposed to Michelle by tricking her into thinking he didn't even want to get married! It's smart, sweet, and probably made the moment memorable as heck for Michelle. A if you're wondering what Obama said to his bae while asking her to marry him, fret not.
Michelle wrote that after the ring was revealed at the restaurant, Barack "dropped to one knee then and with an emotional hitch in his voice asked sincerely if I'd please do him the honour of marrying him." Barry! I'm cry!
There was never really any doubt that these two have a love worth obsessing over, but now, it's even more clear that the Obamas are totally aspirational. With a proposal like that, how could you expect anything less from these two other than dedication, love, and commitment? Barack and Michelle Obama are perfect for each other, no fake news here, and I can't wait to see how they continue to make our country a better place by being their beautiful, lovable selves.