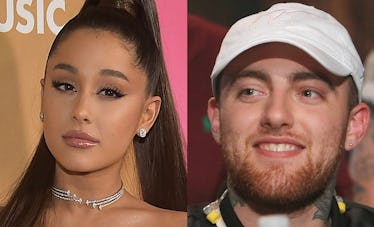 Ariana Grande Posted A Thank You Video Cuddling With Mac Miller's Dog After Her Grammy Win
Theo Wargo/Dale Berman/Getty Images
Ariana Grande has officially won her first Grammy. The singer took home the award for Best Pop Vocal Album for Sweetener on Sunday, Feb. 10. And although she didn't attend the actual ceremony due to a disagreement with the show's producers, she was active on social media throughout the entire show reacting to the winners. After the show was done, Grande took to Instagram to react to her Grammy win. And the video of Ariana Grande cuddling with Mac Miller's dog Myron is just the sweetest.
Grande took in Myron after Miller died in September 2018. He had adopted the doggo while he and Grande were still together and she already has a litany of dogs as it is (plus her pig, Piggie Smallz), so adding Myron to the bunch seemed to be a natural addition for Grande. She's posted a bunch of photos and videos of sweet little Myron ever since then, oftentimes when he's bonding with Toulouse (Grande's most diva of a dog), and it's always the sweetest. Now, she posted a video of her and Myron cuddling in response to her first-ever Grammy win.
She posted the video of her snuggled up in her bed with Myron and said,
it's me your tiny, highly emotional, italian, and now grammy award winning friend. i'm super tarnished lol. but super grateful. thank u for everything. myron is in my arms n he says hi as well.
HEY, CUTIES.
In the video, Grande asks, "Is it rolling?" Whoever is taking the video giggles and responds, "Yup." Then Grande says "Thank you so much" to her followers watching. She and Myron are basically a human/doggo burrito in this moment. And it wasn't the only sweet video she posted of Myron on Grammy night.
Wearing a custom-made Zac Posen gown, she posted a video of Myron basically trying to surf on the train of her dress.
"Just a surfin boy," she said in the caption. She's strolling around a house in her Cinderella-like gown in the video as Myron trails behind her trying to play with the skirt. It's truly an adorable sight.
She was a little upset earlier in the night, however, when Mac Miller lost Best Rap Album to Cardi B. In a moment that was less about Cardi as it was about how she felt the Grammys mishandled Miller's posthumous nomination, Grande posted (and quickly deleted) some angry tweets reacting to Miller's Best Rap Album loss.
According to E! News, Grande tweeted "trash," "f*ck," and "literal bullsh*t" in response to the late Miller not winning the first and only Grammy he was nominated for. She also liked a tweet that read, "THEY INVITED HIS PARENTS OUT. NO," which indicates what Grande was upset about.
Miller's parents were invited to attend the Grammys in honor of their late son on Feb. 10. Some people were of the belief that Miller was going to win Best Rap Album out of respect for the rapper, who died of a drug overdose in September. The fact that his parents were invited to the show by the Grammys also implies that he was a contender for the award. I mean, that's obvious, considering he was nominated, but the invite gave Miller's fans even more hope that winning posthumously was in the bag.
Though, to be fair to the Grammys producers, Grammy winners are decided by voting members of the National Academy of Recording Arts and Sciences, which means producers could never guarantee Miller's win and probably invited Miller's parents out of respect, as well as to give them the opportunity to accept the award if he did win. Still, Grande's emotional response to Miller's loss is understandable considering so many fans believe he deserved the award.
But Cardi B (who was also just as deserving of the award) won out, making her the first-ever female solo artist to win Best Rap Album. Grande responded to Cardi's win ensuring that her anger wasn't about Cardi.
"Nothing to do w her. good for her. i promise," she said in the since-deleted tweet. Cardi B ended up paying tribute to Miller on her Instagram after her win, saying that she's sharing the award with Miller.
"I read an article that Mac Miller's family said that if he don't win, they want me to win," she said at the end of her Instagram video celebrating her win. "So I'm sharing this Grammy with you, motherf*cker! Rest in peace!"
Grande watched the Grammys and was grateful for her win, but she made it clear last week why she wasn't attending. And it wasn't a scheduling issue.
The Grammy Awards producer, Ken Erlich, said in a statement last week that Grande was supposed to perform at the Grammys, but she ended up pulling out because "she felt it was too late for her to pull something together for sure. And it's too bad. She's a great artist."
Grande quoted the tweet and set the record straight.
"mhmmm here it is ! 'too late for her to pull something together......'" she said in one tweet. In a follow-up tweet, Grande set things straight.
She said,
i've kept my mouth shut but now you're lying about me. i can pull together a performance over night and you know that, Ken. it was when my creativity & self expression was stifled by you, that i decided not to attend. i hope the show is exactly what you want it to be and more.
She added one more tweet that read,
i offered 3 different songs. it's about collaboration. it's about feeling supported. it's about art and honesty. not politics. not doing favors or playing games. it's just a game y'all.. and i'm sorry but that's not what music is to me.
So she stayed home and cuddled with Myron instead. Honestly, respect.