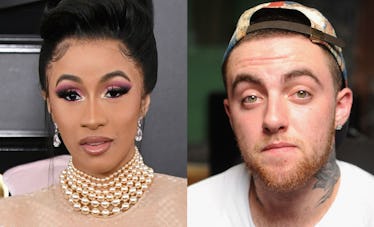 Cardi B Posted A Tribute To Mac Miller After The Grammys That Got Love From Ariana Grande
Jon Kopaloff/Jamie McCarthy/Getty Images
Cardi B won big at the Grammys last night. The 26-year-old rapper took home the Grammy for Best Rap Album on Sunday, Feb. 10, sparking excitement from her fans and disappointment in others, namely Mac Miller's fans. The late rapper's last album, Swimming, was nominated for Best Rap Album alongside Invasion of Privacy, and Cardi B won out. But Cardi B's tribute to Mac Miller after the Grammys is a heartfelt move on Cardi's part.
Cardi B had the odds stacked against her in the Best Rap Album category. She was the only woman nominated in the category that included Travis Scott's ASTROWORLD, Pusha T's Daytona, Nipsey Hussle's Victory Lap, and Miller's Swimming. This nomination marked Cardi's second year in a row being nominated and Miller's first.
Fans of Miller believed Miller would end up winning Best Rap Album posthumously, taking the fact that the Grammys invited his parents out to the event as a hint. But Cardi ended up winning.
Ariana Grande was particularly upset about that. Not about Cardi's win, but rather the fact that the Recording Academy nominated Miller posthumously, invited his parents out to the show, and then didn't give him the award for Best Rap Album.
It should be noted that the Grammy Awards winners are decided by voting members of the Academy, therefore a win for Miller could never be guaranteed. Still, it's not hard to understand why Grande was emotional — it would have been amazing for Miller to win the award and so many people thought he deserved it.
The moment prompted the "Thank U, Next" singer (who won her first-ever Grammy last night for Sweetener) to tweet some angry tweets, then quickly delete them. Grande posted several tweets after Miller's Grammy loss that said "trash, "f*ck," and "literal bullsh*t," but she quickly deleted them, according to E! News. She also replied to (and then deleted) a fan's tweet that said, "THEY INVITED HIS PARENTS OUT. NO." She quickly apologized for the anger-filled tweets, making it clear they weren't about Cardi B.
"Nothing to do w her. good for her. i promise," Grande tweeted. This tweet has also since been deleted. Cardi B had a moving reaction to it all, though. And it appears that she understands where Grande is coming from and didn't take her tweets personally.
After her big win, Cardi posted a video to her Instagram celebrating.
She thanked a bunch of people in the video, and then near the end, she gave a shout out to Mac Miller and his family.
"I read an article that Mac Miller's family said that if he don't win, they want me to win," she said, "so I'm sharing this Grammy with you, motherf*cker! Rest in peace!"
She captioned the post, "WE WON A F*CKIN GRAMMY 🏆🏆🏆🏆🏆."
Ariana Grande responded to the Instagram with a bunch of black heart emojis, so clearly everything is good between these women.
In the Us Weekly article published in January 2019, the outlet reported that Miller's family was hoping Cardi B would win Best Rap Album if Miller didn't.
"Malcolm's family was so moved when his nomination was announced," a source close to the family told the outlet. "They are really hopeful that the Recording Academy will honor what they believe to be the most important and impactful rap album of the year."
They continued, "It will be a bittersweet moment for them if Malcolm wins. And if he doesn't, they're rooting for Cardi B."
All seems to be well between Cardi B and Ariana Grande following the tweets. Grande made it clear that she had nothing against Cardi, and both of the women won big in their respective categories on Sunday. So there's a lot to be celebrated.
Grande was one of the many women to win the top categories at last night's Grammys. She won Best Pop Vocal Album for Sweetener, Cardi B won Best Rap Album, H.E.R. won Best R&B album for her self-titled EP, Kacey Musgraves won Best Country Album and Album of the Year, Lady Gaga won Best Pop Duo/Group Performance for "Shallow," and Dua Lipa won Best New Artist. 'Twas a big night to be a woman in music!