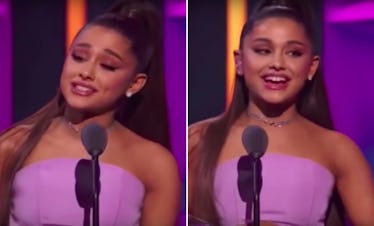 Ariana Grande Got Emotional During Her Moving Woman Of The Year Acceptance Speech
YouTube
In case you missed it, singer Ariana Grande was honored with the title of Billboard's Woman of the Year award at this year's Billboard Women In Music event on Thursday, Dec. 6. The 25-year-old singer humbly took the stage to deliver her speech and gave the audience something that was truly emotional and heartwarming — so much so that there wasn't a dry in the house, including Grande herself. And, when watching the video of Ariana Grande's Billboard Woman of the Year speech, I guarantee that you'll be fighting back tears as well.
As Grande took to the stage to start her acceptance speech, she started things off on a light note, jokingly thanking the audience for coming to her Quinceañera, but soon enough, she was putting her humor aside to thank the crowd of people who helped her reach this point in her career, like manager Scooter Braun and her record label, Republic Records. She also thanked Billboard for the event itself, and noted that it's refreshing to see a large group of women band together to fight for equality and help "even out the playing field" in a space that's typically dominated by men.
Grande revealed that she felt "completely undeserving" of the Woman of the Year title, but proved she was more than worthy of the title as she launched into a powerful monologue. In part, Grande said,
I find it interesting that this has been one of the best years of my career and the worst of my life. A lot of people would look at someone in my position right now as an artist that could be at her peak and think, 'She's really got her sh*t together, she's really on it. She's got it all.' And I do, but as far as my personal life goes, I really have no idea what the f*ck I'm doing.
She laughed and continued, telling the audience, "So yeah, it's been a very conflicting one, and I just want to say if you're someone out there who has no idea what this next chapter is going to bring, you're not alone in that."
She ended her speech by saying,
I look forward to hopefully learning to give some of the love and forgiveness that I've given away so frivolously and easily to men in the past to myself, hopefully, this year. I have everything I've ever dreamt of having, and as of late I've discovered that it's the things I've always had and the people I've always had that still make me the happiest.
You can watch her acceptance speech below, but I'm warning you: you may want to go grab yourself a Kleenex.
Before she even accepted her speech, Grande was on stage singing her most recent hit, "Thank U, Next" (you might know it as the song with the music video that made all of our early-2000s dreams come true), and she totally crushed it:
And this girl thinks she's "undeserving" of the award? Thank u, next.
But in all seriousness, a huge congratulations to Ariana Grande, who made this year one of the best in her career, and moved onward in the face of loss and heartbreak. You've got the whole world in your corner, Ariana!