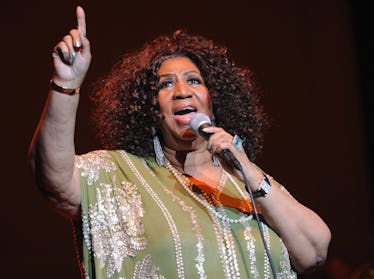 This Video Of Aretha Franklin Singing At Obama's Inauguration Shows She Was An Icon
Rick Diamond/Getty Images Entertainment/Getty Images
Aretha Franklin, queen of soul, died on Aug. 16, 2018. The iconic singer is being mourned all over social media today, and it's naturally bringing up a lot of old videos of her performing. This video of Aretha Franklin singing at Obama's inauguration is just one of the amazing videos to resurface today that shows just how much of a legacy she's leaving behind.
Franklin performed "My Country, 'Tis Of Thee" at President Obama's first presidential inauguration in 2009. As with everything Franklin performed, she made the song her own and the performance was iconic. The camera pans out to the crowd throughout the video and you can tell in everyone's face that they're just in awe of how amazing she is. Aretha did that.
According to The Associated Press, Franklin's publicist confirmed that the singer died on Thursday, Aug. 16, in her home in Detroit. Franklin was reportedly "seriously ill" earlier this week, according to an anonymous source who did not reveal more about her reported condition at the time. Elite Daily reached out to Franklin's team for comment on the report, but did not hear back by the time of publication. CNN later reported that Franklin was in hospice care at her home in Detroit.
Franklin's family released a statement confirming her death on Aug. 16. The statement revealed that her oncologist confirmed that the cause of her death was advanced pancreatic cancer. The statement confirming her cause of death said, "Franklin's official cause of death was due to advanced pancreatic cancer of the neuroendocrine type, which was confirmed by Franklin's oncologist, Dr. Philip Phillips of Karmanos Cancer Institute."
The family's statement read,
In one of the darkest moments of our lives, we are not able to find the appropriate words to express the pain in our heart. We have lost the matriarch and rock of our family. The love she had for her children, grandchildren, nieces, nephews, and cousins knew no bounds ... We have felt your love for Aretha and it brings us comfort to know that her legacy will live on. As we grieve, we ask that you respect our privacy during this difficult time.
Celebrities and fans alike are all taking to Twitter to honor the late singer by posting videos of her performances, tweeting about how much her music meant to them, and more. This video of her performing at Obama's first inauguration is sure to be one of the best we'll see today.
Beyoncé and JAY-Z also honored Franklin in their own way during their On The Run II tour. Bey and JAY were in Detroit for their latest stop on their joint tour on Aug. 13 when news of Franklin's declining health was reported. When the show began, Beyoncé reportedly said to the crowd, "This show is dedicated to Aretha Franklin. We love you and thank you." DJ Khaled, who is one of the On The Run II's opening acts, honored Franklin as well by including her music in his set.
According to Us Weekly, Stevie Wonder visited Franklin in Detroit on Tuesday while she was in hospice care. Franklin's publicist, Gwendolyn Quinn, confirmed to the outlet that Wonder stopped by to check in on his friend on Tuesday, Aug. 14. Her ex-husband, Glynn Turman, also visited Franklin the same day, according to Quinn.
Fans are heartbroken over the loss of the singer, but are honoring her place in history as one of the most influential artists in music.
Rest in peace to one of the greats.