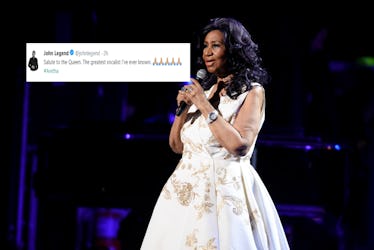 These Celebrity Reactions To Aretha Franklin's Death Will Break Your Heart
Noam Galai/Getty Images Entertainment/Getty Images
The entertainment industry is mourning the loss of an icon today. Aretha Franklin, the "Queen of Soul," died at the age of 76 on Aug. 16 from advanced pancreatic cancer. The groundbreaking singer was an inspiration to artists to everywhere and her legendary voice will not be forgotten. Celebrity reactions to Aretha Franklin's death are now pouring in, and many musicians, actors, and other public figures have tweeted their heartbreak, support, and love following the tremendous loss.
News of Franklin's rapidly failing health first made headlines earlier this week, with press outlets reporting that she was resting and surrounded by family and friends after privately battling sickness for several years. The announcement inspired prayer vigils at Detroit's New Bethel Baptist Church, where Franklin's father was a minister, as well as a tribute performance of "Respect" by DJ Khaled at a Beyoncé and JAY-Z concert in Detroit. When Franklin's death was confirmed on Thursday, her family released a statement, saying:
In one of the darkest moments of our lives, we are not able to find the appropriate words to express the pain in our heart. We have lost the matriarch and rock of our family. The love she had for her children, grandchildren, nieces, nephews, and cousins knew no bounds. We have been deeply touched by the incredible outpouring of love and support we have received from close friends, supporters and fans all around the world. Thank you for your compassion and prayers. We have felt your love for Aretha and it brings us comfort to know that her legacy will live on. As we grieve, we ask that you respect our privacy during this difficult time.
Celebrities quickly turned to Twitter to honor the Queen of Soul, posting tributes ranging from sweet and simple to powerful and thought-provoking. While Shonda Rhimes sent out a message saying "Aretha," John Legend and Hamilton scribe Lin-Manuel Miranda honored the Queen of Soul's music. Barbra Streisand, Franklin's contemporary in the music industry, shared a picture of the two women together, reflecting on Franklin's dedication to civil rights, particularly seen in her early performances of the social justice anthem "Respect."
Streisand's post joins a trend of musicians who rose to fame at the same time as Franklin commemorating the loss of the soul singer. Elton John posted a multi-thread message dedicated to Franklin, who he shared a birthday with, while Paul McCartney, Carole King, Ringo Starr, and Tony Bennett also shared bittersweet reactions to her passing.
Following in Legend's footsteps, other musicians and actors also took the time to share what Franklin's voice and style meant to them. In a move emphasizing Franklin's influence beyond the music industry, Hillary Clinton shared a tribute, while A Wrinkle in Time filmmaker Ava DuVernay posted lyrics from Franklin's hit "(You Make Me Feel Like) A Natural Woman."
Garnering more than two dozen Top 40 hits over the course of her career, Franklin also won 18 Grammy awards and was the first woman inducted into the Rock and Roll Hall of Fame. Her last public performance was in November 2017 at an Elton John AIDS Foundation gala in New York, a key example of Franklin keeping her health struggles private toward the end of her life. In their statement, Franklin's family announced that funeral arrangements would be publicized in the next few days.