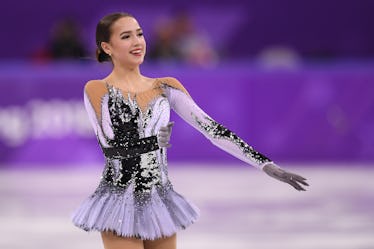 Alina Zagitova's Free Skate Video Is Something You Have To See To Believe
Harry How/Getty Images Sport/Getty Images
Well you guys, it's finally here. The last figure skating event of PyeongChang's 2018 Winter Olympics has wrapped up, and we got to see the incredible athletes give it their all. And the video of Alina Zagitova, the 15-year-old skater from Team Russa, during her final skate shows that she has absolutely crushed the competition. Zagitova, who won Wednesday's short program with a world-record 82.92 points, has proved that she's a skater who consistently performs excellently on the ice, and her last performance isn't exactly breaking the mold.
On Wednesday, Feb. 21, Zagitova's training partner, 18-year-old Evgenia Medvedeva set a world record of 81.61 points during the short program, but only minutes later, Zagitova performed and broke Medvedeva's previous record that happened only moments before. After her short program, Zagitova spoke to ESPN, saying, "I'm happy I was able to cope with my nerves and skate well, set a world record, but I've still got something to work towards and I can't afford to relax."
This double-record whammy was surprising, to say the least, but that's exactly why all eyes were on Zagitova tonight, to see if her performance would make history yet again.
And Zagitova performed beautifully.
Her incredible score of 156.65 guaranteed her a spot on the podium, no matter what happened next.
Check out the video below to watch Zagitova perform to Don Quixote by Leon Minkus:
You can find a full video of the performance on NBC Olympics.
It was thought that either Alina Zagitova or Evgenia Medvedeva would take home gold because of their history-breaking high scores, but that didn't pin the two teammates against each other as rivals. According to ESPN, the two spoke about their friendship, Medvedeva speaking first:
We are friends. We are young girls. We can talk about anything to each other, and when we take the ice it's sport and we must fight. Every competition I feel like [is] a little war.
Zagitova added:
We are friends first and rivals second, because you have to have competitiveness in sport.
And, because the Russian Olympic Committee was banned from the 2018 Winter Olympics, many wondered what it would look like if Zagitova or Medvedeva placed gold, silver, or bronze. It was noted that if any Russian athletes, which are recognized as "Olympic Athletes from Russia," won in their field, their success would not be credited to Russia, and the Olympic flag will be raised in lieu of the Russian flag.
It looks like we'll be seeing that take place for Zagitova, who was guaranteed the podium by her stellar performance.
Zagitova's routine is astounding, considering she almost stopped skating altogether, after her coach told her that she wasn't working hard enough a few years back. She told ESPN Magazine:
The breaking point happened when my coach told me that I needed to leave. I cried a lot. For three or four days, I did not practice and it made me realize how much I love this sport. I went back to my coach and said I'm going back to my hometown. That's it, I'm quitting figure skating. But my coach told me, let's try it again. And I was very happy. I had butterflies in my stomach. [If] it wasn't for that moment, maybe I wouldn't be here today.
Imagine Zagitova never returned? That means we'd have never been able to witness her near-perfect performances, like her legendary short program on Feb. 21, skating to the music from the film Black Swan:
And we wouldn't have been able to witness Zagitova's final performance at the 2018 Winter Olympics, where she proved that she was more than deserving of a medal.
Congratulations to Alina Zagitova, and to all the other Olympians who clearly gave it their all in PyeongChang.