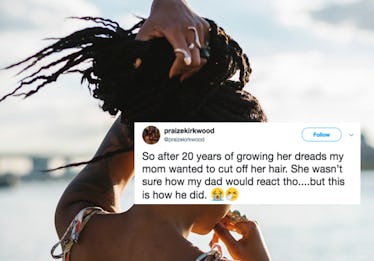 This Man's Reaction To His Wife's Drastic Haircut Is The Cutest Thing You'll See Today
Getting a drastic haircut is always nerve-racking, and I'd even go so far as to say that it's about 10 million more times nerve-racking when you're in a long-term relationship. Obviously, if you're in a healthy, loving relationship like you deserve to be in, your significant other is going to love you no matter what you look like, as they always should. And you know that. But because they're used to seeing you with a certain look, the change can come as a bit of a shock. Well, this man's reaction to his wife's haircut should ease any and all nerves you may have had about donning a new haircut in front of your bae.
The video of his reaction was posted by his daughter, Twitter user @praizekirkwood. Her mom, Dawne, who had her hair in dreadlocks for the past 20 years, recently chopped off all of her hair. According to @praizekirkwood's tweet, Dawne was a little nervous to show it to her husband for the first time. Luckily, their daughter caught the whole thing on camera, and her dad's reaction could not have been more priceless.
The video has since been viewed over 5 million times. The caption read,
So after 20 years of growing her dreads my mom wanted to cut off her hair. She wasn't sure how my dad would react tho....but this is how he did.
SO FREAKING CUTE. The video starts off with Dawne's husband reassuring her that he is, in fact, standing in the other room with his back turned. From the hallway, you can hear her yell, "I'm getting nervous!" But when Dawne finally walks into the living room, and he turns around, the first thing out of his mouth was, "Oh, wow! Oh, you are so hot! Man, ooh, that is so fine. My god, you look like a Hollywood star. You look awesome! Woo! Boy, I can't believe it."
Suddenly, any level of adoration from a significant other that's below this is simply not good enough. IF MY MAN DOESN'T THINK I LOOK LIKE A HOLLYWOOD STAR AFTER EVERY NEW HAIRCUT, THEN HE IS NO LONGER MY MAN.
Even their daughter admitted that she almost cried at the beautiful scene.
To be fair, Dawne really did look like a Hollywood star. I mean, check out this photoshoot she posted of herself on Twitter rocking her new do.
That's not to say she didn't look like a star before the new haircut either, though. Dawne's daughter posted a series of beautiful pictures of her mom after people from all over Twitter started asking about her mom's hair pre-cut.
As you can imagine, Twitter cannot get enough of Dawne's gorgeous new haircut and her loving marriage.
Also, Dawne isn't the only one people are noticing.
People think the dad might be the luckiest man in the world.
In fact, his ability to rock denim on denim is, perhaps, his most impressive accomplishment.
But at the end of the day, this is truly the story of two "attractive as hell" people who managed to love each other throughout the years.
No matter how long you've been with your partner, this video should serve as a reminder not to hold back in showing and telling them how much you care about them, how much you love them, and how beautiful you find them. It's easy to get lost in the routine of life and forget your partner in the mix of things. Do whatever it takes to make your partner feel the best they absolutely can all the time.
Check out the entire Gen Why series and other videos on Facebook and the Bustle app across Apple TV, Roku, and Amazon Fire TV.
Check out the "Best of Elite Daily" stream in the Bustle App for more stories just like this!