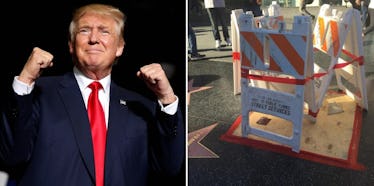 Trump's Hollywood Star Fixed, But It's Being Barricaded Until After Election
REUTERS/Instagram
If you thought Donald Trump's Hollywood star on the Walk of Fame being vandalized was going to put a dent in his presidential campaign, you were wrong.
Trump's shiny (but mostly dusty) gold star was destroyed earlier this week by a man who identified himself as James Otis, according to previous reports. The man used an pickaxe to vandalize the star.
A viral video of the vandalization process was shared all over social media.
According to TMZ, Donald Trump's vandalized star on the Hollywood walk of fame has been fully repaired. It looks like Otis' dreams of shaking up the election with his stunt will not come true.
Instead, after the investigation by law enforcement is complete, he could be spending some time in jail on felony charges.
Despite the star having been repaired, the Hollywood Chamber of Commerce that's responsible for maintaining the Walk of Fame isn't sure if they should barricade Trump's star until after the election.
Reports state that the Chamber of Commerce fears it may be vandalized again if it's unveiled prior to November 8.
I wonder why...
Let me take a wild guess: It might be vandalized because of Donald Trump and all of the drama he's caused this year.
Yeah, that sounds about right.
Still, regardless of whether you agree with the presidential candidate or not, destroying public property isn't going to do anything. If anything, you made some innocent worker's life even harder this week!
Just before the star was destroyed this week, someone else vandalized Trump's pride and joy back in September of 2015.
Shit, I guess people must really hate this guy, huh?
Hollywood, we've got a problem...
And the only way to fix it would be to put Donald Trump's star on Mars instead of here on Earth. We don't need any sledgehammer-wielding activists disturbing the peace in the middle of the night just to go viral on Twitter.
Besides, it's not a bad idea. Whenever Trump or anyone who actually likes him wants to see his star, they can just take their asses to Mars where they belong!
For now, the barricading will just have to do.
Let's hope that will protect it enough, right?!
Citations: Donald Trump Hollywood Star As Secret As November Ballots (TMZ)