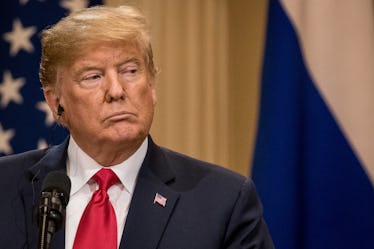 Here's What An Alleged Russian Spy Asked Donald Trump At A 2015 Event
Chris McGrath/Getty Images News/Getty Images
On Monday, July 16, Maria Butina, another Russian national, was indicted by the U.S. Department of Justice on charges of allegedly conspiring to act as an agent of Russia prior to the 2016 presidential election. Butina's attorney, per The Washington Post, denies that Butina is an agent of Russia and says she was merely "networking." The indictment came just hours after President Donald Trump's closed-door meeting and press conference with Russian President Vladimir Putin. Meanwhile, another layer of the Russia–United States connection has been revealed, as a video appears to show Maria Butina asking Trump about Russia during a town hall in 2015.
Elite Daily reached out to the White House for comment regarding the video, but had not received a response at time of publication. There is no evidence that Trump and Butina had interactions outside of this public event.
In the video taken from a town hall style campaign event in Las Vegas, Butina says,
I'm from Russia. ... My question will be about foreign politics. If you would be elected as a president, what will be your foreign politics especially in relationship with my country? And do you want to continue the politics of sanctions that are damaging of both economy [sic] or do you have other ideas?
Trump's answer focused on the Obama administration and trade with China. In his response, he said, "I know Putin, and I'll tell you what, we get along with Putin. Putin has no respect for President Obama. Big problem. Big problem."
He added, "I believe I would get along very nicely with Putin, OK? And I mean, where we have the strength, I don't think you'd need the sanctions."
Butina, who is alleged to be agent for the Russian Federation, was indicted Monday by the FBI for allegedly conspiring to act as an agent of Russia. Her indictment adds to the running total of 25 Russian nationals and three Russian businesses entities that have been indicted as a result of the probe.
In 2011, she formed a gun-rights group, Right to Bear Arms, in her home country that was similar to the National Rifle Association (NRA) and got the attention of Russian politician Alexander Torshin, with whom she became connected.
Documents show Butina's connections to the United States were allegedly established in 2013, when she was promised a contact to an influential figure in American politics via her gun rights advocacy. (Also that year: John Bolton, who as of April 2018 is Trump's national security adviser, made a promo video that was used by Butina's group, although there is no evidence that Bolton and Butina are personally affiliated.) Together, Butina and Torshin attended the NRA convention in 2014.
From there, Butina began making herself known at NRA events and was attending the FreedomFest, a libertarian forum, in 2015 when she asked Trump about Russia. Unlike the other indictees, she was not charged with crimes related to explicitly interfering in the election. But her indictment and connections with U.S. politicians and political engines add a layer to the investigation into Russian meddling being led by FBI Special Counsel Robert Mueller.
At the press conference with Putin in Helsinki, Finland, Monday, Trump confirmed he had spoken with the Russian president about interference in the 2016 election during their private meeting earlier that day. But when pressed about whether he believed Putin, who denied any interference, or the assessments of U.S. intelligence agencies, Trump appeared to side with Putin. The incredible position taken by Trump sparked national outrage by politicians from both sides of the aisle, and beyond the Washington sphere.