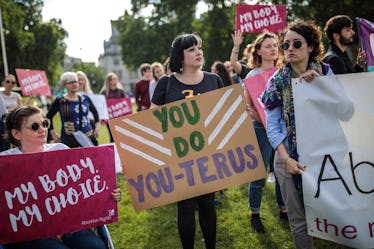 This One Tweet Sums Up The Irony Of The Supreme Court's Crisis Pregnancy Ruling
Jack Taylor/Getty Images News/Getty Images
There is nothing like seeing someone post your exact feelings about a major issue on social media, which is why I'm loving this tweet about the Supreme Court's crisis pregnancy case ruling. On Tuesday, June 26, the nation's highest court ruled in favor of crisis pregnancy centers (CPCs), in the case NIFLA v. Becerra. The decision says that the state of California cannot force CPCs to disclose available medical services and options to pregnant women, arguing that it would be an infringement upon their First Amendment rights. Needless to say, the decision has caused quite the stir on and off social media.
CPCs are organizations that often have ties to Christian groups, and are often designed to counsel pregnant women against receiving an abortion. They've been heavily criticized for reportedly misleading women about reproductive health or in attempts to dissuade them from having abortions — which is why many people have been utterly confused and upset by the court's latest ruling. It also really doesn't help that some CPCs reportedly trick people, intentionally or unintentionally, into visiting their facilities instead of actual abortion clinics by using names similar to abortion clinics in the area or having their employees dress up in scrubs, either. Elite Daily reached out to NIFLA at the time of the Supreme Court arguments for comment on the criticism of CPCs, but did not receive a reply.
On the day of the ruling, a Twitter user who goes by the name Laura Sant (or @mizsant) shared a post online expressing her dissatisfaction with the decision, and it's pure fire. She wrote,
So Velveeta isn't allowed to call itself 'cheese' but an unlicensed crisis pregnancy center can pretend to be a medical facility. Okay.
I. CANNOT. AGREE. WITH. YOU. MORE, @mizsant. If the government has control over what Velveeta can refer to itself as, I truly don't get how CPCs aren't required to say what they actually do (or don't do). Seriously: a product isn't allowed to be called "cheese" unless it's got a certain amount of milk in it, but CPCs don't have to tell their patients whether or not they're a licensed medical facility? I knew 2018 was weird, but man... this is an entirely new level.
California Attorney General Xavier Becerra had echoed similar comments back in November 2017, saying he would fight to uphold the Reproductive FACT Act (which was undone on June 26 by the Supreme Court), because "all women should have access to the information they need." The regulation ensured that women in California received all available health care options from clinics, including family planning services and abortion services. In a statement, Becerra said:
Information is power, and all women should have access to the information they need when making personal healthcare decisions. The Reproductive FACT Act ensures that women in California receive accurate information about their healthcare options, including whether a facility is a licensed medical provider. The California Department of Justice will do everything necessary to protect women's healthcare rights.
However, the Supreme Court ultimately decided — in a 5-4 ruling — the regulation "likely violates" the First Amendment and the clinics' right to free speech. It's a decision that has prompted extreme backlash from pro-choice advocates, including NARAL Pro-Choice America President Ilyse Hogue, who said the court had "turned its back on women."
"One vote made all the difference today, and it could also be the only thing between upholding Roe or outlawing legal abortion in America," Hogue said in a statement. She continued:
Fake women's health centers, with the rest of the well-funded and well-connected anti-choice movement, have been working towards this moment for decades. They have carefully put the pieces together — passing radical and unconstitutional abortion bans, stacking the lower courts — because they are counting on Trump's Supreme Court to overturn Roe v Wade. Roe is at greater risk than ever before.
And you've gotta admit, with this new ruling, the future of women's health is a pretty scary subject to think about.
Clearly, there are plenty of people who aren't feeling this latest decision one bit. But on the bright side: at least these things can always be reversed or repealed. So there's something to look forward to, at least.