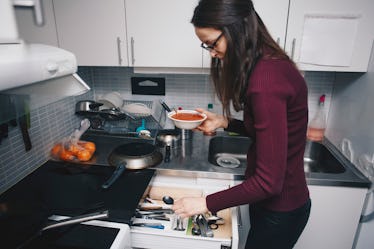 TikTok's Viral Tomato Soup Recipe Is "Back & Better Than Ever"
Maskot/Maskot/Getty Images
There's something so comforting about tomato soup. When you're feeling under the weather or in need of a pick-me-up, enjoying this creamy dish is akin to giving your soul a nice warm hug. You never know when your next craving for this soothing bowl of deliciousness will come, but when it does, it'll come quick. To prepare, you'll want to bookmark this tomato soup recipe on TikTok. This classic dish is cheesy, zesty, and after the first spoonful, it will leave you saying, "Ah."
You may have already seen this recipe on TikTok on your "For You" page when it first went viral back in January 2021, courtesy of TikToker @yessidothecookingg. But it seems that people aren't done slurping up this dish, because the recipe is trending once again. This time, it's with an updated version of the recipe that was posted more recently by the same TikToker, and according to their latest video, "It's back and better than ever."
If only smell-o-vision was real, because once you get a look at these tasty tomato soup recipes on TikTok, you'll be wishing you could get a whiff of these aromatic dishes. Besides reminding you of a fresh summer garden, these soups make a great addition to your dinner table as a starter, the main dish, or as a companion to your fave grilled cheese. They're easy to put together too, so even if you constantly burn your toast, you can rest easy knowing that TikTok's got your back.