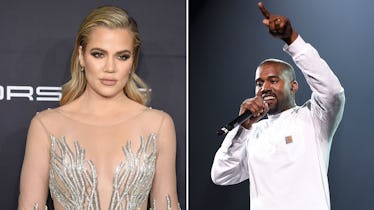 This Theory Explains What Kanye's Tweets Mean About Khloe's Relationship & I'm Shook
Jamie McCarthy & Dimitrios Kambouris/Getty Images Entertainment/Getty Images
As usual, there is a sh*t-ton going on in the Kardashian/Jenner/West world. You guys know what I'm talking about. Ya know, Tristan Thompson reportedly cheated on Khloé while she was pregnant with their baby, Kanye West is back on Twitter supporting Donald Trump and word-vomiting all over the place, and Kim is naked, naked, naked. Coincidence? Fans think not. This fan theory about Kanye West's tweets is a doozy, but it's just so wild it could be true. Weirder things have happened.
If you aren't on Twitter, social media, or somehow have been able to avoid Kardashian news entirely, you might not have heard about West's latest tweet storm. After leaving Twitter just under a year ago, 'Ye made his triumphant return on April 14. It took him 11 days to embark on one of his staple twitter rants on Wednesday, April 25. This particular rampage included but was not limited to: talking about how rich he is, unicorns becoming "decacorns," calling his home "the sunken place" from the film Get Out, and supporting Donald Trump. Obviously, he stirred up a bunch of controversy, because that's what he does best.
HOW-EV-ER. Fans are now thinking there is a method to West's latest madness that might involve protecting his sister-in-law, Khloé Kardashian.
Right at the tail end of KoKo's pregnancy on April 10, videos and stories leaked with incriminating evidence against her boyfriend and baby's daddy, Tristan Thompson. Footage claims to show Thompson kissing another woman, and reports say it's possible he's been cheating on Khloé throughout the duration of their relationship. Elite Daily reached out to Kardashian and Thompson's teams for comment on both reports but did not hear back by the time of publication.
TBH, the news was heartbreaking. Khloé has been so vocal about how wonderful, strong, and safe she's felt in her relationship with Thompson, and the thought of him cheating on her pulled the rug out from under fans and Khloé herself. While she and her family have done their best to redirect all PR to her new baby, True, everyone can't help but wonder what the heck is up with her relationship.
Now, fans think West's epic sh*tstorm on Twitter was actually a calculated move to distract everyone from the cheating rumors and give Khloé a break. Some even think Kris Jenner, momager/ringleader/puppet master, might be behind the whole thing, too.
At the same time West was going on and on about his MAGA hat, his wife, Kim, was busy posting nude photos of herself on Instagram to promote her new fragrance, KKW Body.
Again... coincidence???
Silly reader. By now you've surely caught on that fans think everything the Kardashians do at all times is planned.
With everything going on, I sort of a feel like a shark that was just punched on the nose — stunned.
The truth is, we have yet to hear from Khloé directly about the cheating allegations and it's stressful AF. When the reports first broke, a source told E! News she is "distraught." Elite Daily reached out to Kardashian's team for comment but did not hear back by the time of publication. The insider said,
Her entire world has been turned upside down. She cried hysterically all night. She begged to come back to L.A. and tried to find any way to make it work but her doctor wouldn't let her. She just wants to be with her family and leave as soon as possible. Kris is there [in Cleveland] and completely supporting her.
The source added,
She will obviously never be able to trust Tristan again or look at him the same way ... Her world is shattered. She is in complete disbelief that this is happening.
Looks like Kanye is going to have to work on more tweets until Khloé is ready to share.
Check out the entire Gen Why series and other videos on Facebook and the Bustle app across Apple TV, Roku, and Amazon Fire TV.