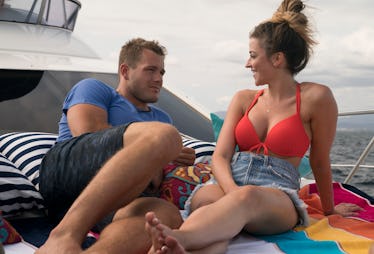 Fans Are Convinced These Tiny 'Paradise' Details Mean Colton Will Be The Next Bachelor
ABC
As one Twitter user described it, in Week 2 of Bachelor in Paradise, Colton Underwood joined the official league of Bachelorette fan favorites who quickly fall from glory on Paradise. No matter where you stand in the neverending scandal between Colton and Bachelor alum Tia Booth, Colton dancing around a commitment to Tia fueled much of Bachelor Nation's animosity toward the former NFL player. Although he's still on the Mexican beach for the foreseeable future, this theory about Colton and Paradise could mean he'll be the next Bachelor. Get ready for marketing campaigns focused on the virgin Bachelor if this is the case.
The Tia-Colton debate has dominated Bachelor fans' summer, and while some of us can't handle the on-again-off-again drama any longer, we can't deny that this incident has the fandom's opinions split right down the middle. Some couldn't care less about whether Tia and Colton fall in love and have Bachelor babies, while others understandably believe that the whole scenario has been blown out of proportion and sympathize with Colton for diving back into the Bachelor bubble so soon after breaking up with Becca Kufrin on The Bachelorette. Either way, Paradise has felt like the Tia-and-Colton show lately, but when it comes to fans' feelings about Colton, Bachelor Nation seems completely torn.
As InStyle writes, so many mixed opinions about Colton could make him an obvious pick to be the franchise's next Bachelor. Between Colton receiving more airtime than most Paradise contestants and Becca even arriving in Mexico seemingly only to ease his nerves, producers are definitely committed to giving Colton a fully fledged storyline. After all, isn't Paradise trauma perfect fodder for the Bachelor's official intro package? Although he had a bit of a breakdown when Becca arrived, one could always argue that putting Colton in this situation showed how he would react in a stressful Bachelor scenario. Bachelor Nation loves its man tears!
After seeing the Paradise producers really trying to mess with his brain, viewers took to Twitter to weigh in on Colton's possibility as Bachelor. Once again, the results were mixed.
Colton's name also trended on Twitter for the first two episodes of Paradise, and the fact that the show's Twitter account pointed it out hints that ABC is well aware of Colton stirring up all the feels among Bachelor Nation. So why would the controversial figure inspiring such friction mean he's a stronger Bachelor contender than we may think?
InStyle points out that selecting a lead that has the franchise so divided could possibly rake in high Bachelor viewership easily. Inevitably, even people who claim they won't watch a season because of a lead still tune in at some point, whereas fans of Colton have remained extremely loyal throughout his Paradise turmoil. Casting Colton could be the perfect route to success, but after two straight years of lukewarm Bachelors, is another polarizing lead really the best solution for ABC? Based on fans' suspicions about producers trying to put Colton in a Bachelor-esque light, maybe not.
We'll have to see how Colton's Paradise time plays out before betting on our Bachelor brackets. However, if his potential future as a lead is meant to be, Bachelor producers should seriously win an Emmy for sneakily arranging events to make Colton a frontrunner for the gig.
Bachelor in Paradise returns on Monday, Aug. 20, at 8 p.m. ET on ABC.