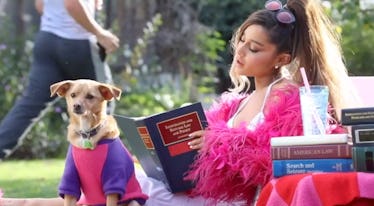 This "Thank U, Next" Behind-The-Scenes Video Is Getting Me So Pumped For The Real Thing
YouTube
Ariana Grande has become the Queen of Hype. Ever since she first announced her latest album, Sweetener, the pop star has had fans on the edge of their seats. She's a master at hiding clues and details about her upcoming music in her social media posts, and her most recent "Thank U, Next" music video teaser is no exception. Fans first glimpsed the Mean Girls-themed promo in late November and have been glued to their social media feeds ever since. Now, Ariana Grande's new "Thank U, Next" behind-the-scenes video has me even more pumped up for the real thing thanks to all of it's BTS awesomeness!
The first time around, Grande teased what fans suspect is a song called "Seven Rings." The opening soundtrack to the promo included a sexy, eerie melody while actors delivered lines reminiscent of the famous script from the original Mean Girls movie. She shared the teaser on her Instagram story with the caption, "Y'all like this instrumental in the beginning?" followed by seven ring emojis. Obviously, fans freaked out.
Then, on the afternoon of Nov. 29, Grande agreed to show fans a little something today to "hold them over" until the video release on Nov. 30. She was careful to explain she and her team wouldn't be revealing everything about the video or future tracks, etc. because that would spoil all of the fun! She wrote:
we're not going to put all of the set ups in the sneak peek tho because we don't want to spoil everything... so just a taste
Some of Ari's followers got pushy (like, real pushy) and told her to "shut up and post it." Yikes. But don't worry, Grande was all over it. She responded, "b*tch it's uploading breathe."
I've got to be honest... the wait was stressful. But, finally, this showed up:
Living for. Dying for.
The behind-the-scenes footage clearly shows radically similar replicas of sets from famous teen movies including Mean Girls, Legally Blonde, Bring It On, and 13 Going on 30. At one glorious point, two dancers are spotted doing the super iconic "bend and snap" move made famous by actresses Reese Witherspoon and Jennifer Coolidge, who played Elle and Paulette in the original Legally Blonde movie.
Not for nothing, Grande's sets look like a huge party. Fans even get to see the woman behind the camera, director Hannah Lux, who can't help but dance along to whatever tunes are bumping on set, too. While there are plenty of awesome cameos from actors and stage crew, I think we all can agree the real star here is the dog. The little pooch, Grande's own dog named Toulouse, is filmed hopping into Grande's convertible, chilling on a lawn chair, and floating in a pool. (I don't know what a person has to do to get hired as the animal watcher for an Ariana Grande music video, but I want in.)
In true Grande fashion, the video ends with the simple text, "Thank U, Next tomorrow. Bye."
Grande's right. This video will get me through the next 24 hours, but I can't say I'll do it patiently.