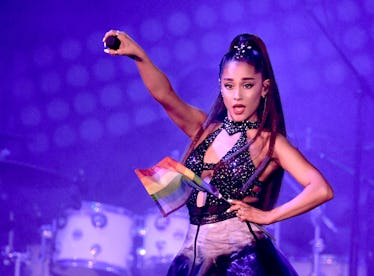 Ariana Grande May Have Hid A Clue About Her Next Single In The "Thank You, Next" Teaser
Kevin Winter/Getty Images Entertainment/Getty Images
Ariana Grande is dropping songs left and right, it seems. And with a whole new album coming soon (likely before the year is out), it's no wonder that she's ramping up promotion of her latest single "Thank U, Next." But in the process of promoting the song and its accompanying video, Grande may have also hinted at yet another single that fans have long been theorizing about called "Seven Rings." So, is Ariana dropping a song called "Seven Rings"? Well, if you take her recent Instagram Story to heart, then probably yes!
Grande's recent Instagram story is basically a screenshot from the preview for the "Thank U, Next" music video. And in the caption, Grande hinted that some of the instrumentals at the beginning of the video were from a song that fans think will be called "Seven Rings".
"Y'all like this instrumental in the beginning?" Grande wrote before adding seven ring emojis.
That, of course, probably means the mysterious "Seven Rings" is probably going to be released sometime soon. Fans started guessing that a song of that name would be coming when a fan account posted what looks like a shot from Grande's "Breathin'" music video. The screenshot seemingly reveals the tracklist for her upcoming album.
This is the screenshot of the tracklist:
And this is the screenshot Grande posted in her Instagram Story:
And here's a look at the preview for "Thank U, Next" which features those instrumentals Grande is talking about:
This hint at a new single comes just a week after Grande was spotted with what looks to be a new engagement ring. But it doesn't mean she's engaged to anyone, so don't go jumping to conclusions. From the looks of things, Grande has made a commitment to herself and friends, which is something she explained she would do in "Thank U, Next." Here's what she said in the song:
Spend more time with my friends / I ain't worried 'bout nothin' / Plus, I met someone else / We havin' better discussions / I know they say I move on too fast / But this one gon' last / 'Cause her name is Ari / And I'm so good with that (so good with that) / She taught me love (love) / She taught me patience (patience) / How she handles pain (pain) / That sh*t's amazing (yeah, she's amazing) / I've loved and I've lost (yeah, yeah)But that's not what I see (yeah, yeah) / 'Cause look what I've found (yeah, yeah) / Ain't no need for searching, and for that, I say
And that line about spending more time with her friends seems to be ringing true at the moment. Several of Grande's friends have posted photos to social media that show them sporting the same ring as she is. Here's a look at the rings Grande and her friends are wearing right now:
So, Grande is a newly committed gal and "Seven Rings" could actually be happening! And soon!
With any luck, the song will be released by the time we ring in the new year. If it's not, I'm sure all the Arianators out there can wait a little longer!