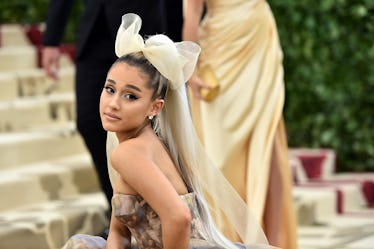 Ariana Grande Is Wearing A New Ring On Her Engagement Finger That Has Fans Asking Questions
Jason Kempin/Getty Images Entertainment/Getty Images
Could Ariana Grande be engaged again? A recent selfie she posted to Instagram definitely has some fans asking that question. The photo of Ariana Grande wearing a new ring published on Sunday, Nov. 18 definitely made some waves with Arianators. They're asking so many questions about what the ring could mean. Is she really engaged? Has she moved on from Pete Davidson? Is she wearing a ring on that finger just for the heck of it?
Well, the ring could definitely be a commitment ring. But don't get any wild ideas — Grande isn't engaged to a specific person. It's more like she's engaged to herself and to her closest friends. And it's about more than just the rings. Her music is tied into it, too. Grande actually laid out her plans to commit to herself and her friends in her latest single "Thank U, Next." Though she expressed her thanks for her exes in the song, Grande ultimately ends it with a promise to be better to herself and to her friends:
Spend more time with my friends / I ain't worried 'bout nothin' / Plus, I met someone else / We havin' better discussions / I know they say I move on too fast / But this one gon' last / 'Cause her name is Ari / And I'm so good with that (so good with that)
And she further reiterated that with an alternate version of the bridge of the song:
She taught me love (love) / She taught me patience (patience) / How she handles pain (pain) / That sh*t's amazing (yeah, she's amazing) / I've loved and I've lost (yeah, yeah)But that's not what I see (yeah, yeah) / 'Cause look what I've found (yeah, yeah) / Ain't no need for searching, and for that, I say
So, Grande has totally committed to putting herself and her friends first. And there's nothing wrong with that! In any case, here is the photo Grande posted on Instagram:
Grande's friends also posted similar selfies while sporting the same exact ring:
All these rings definitely have fans theorizing about what it all means. The fan theories started when a fan account posted what looks like a shot from Grande's "Breathin'" music video which seemingly reveals the tracklist for her next album.
You can even see "Thank U, Next" in the list. But there's also a track there called "Seven Rings" and that's what fans are really latching onto at the moment. Naturally, fans are taking to Twitter to discuss their theories about "Seven Rings" and what it could mean.
Some fans seem to think "Seven Rings" will be an homage to her closest friends and how much they mean to her:
Other fans have some interesting ideas about how Grande's ex-loves might be tied into the song:
And then there are those fans who believe that "Seven Rings" will be about astronomy:
Personally, I think "Seven Rings" is going to be about her friends. That's the theory that makes the most sense to me. But whatever the song is about, I'm sure it's going to be great.