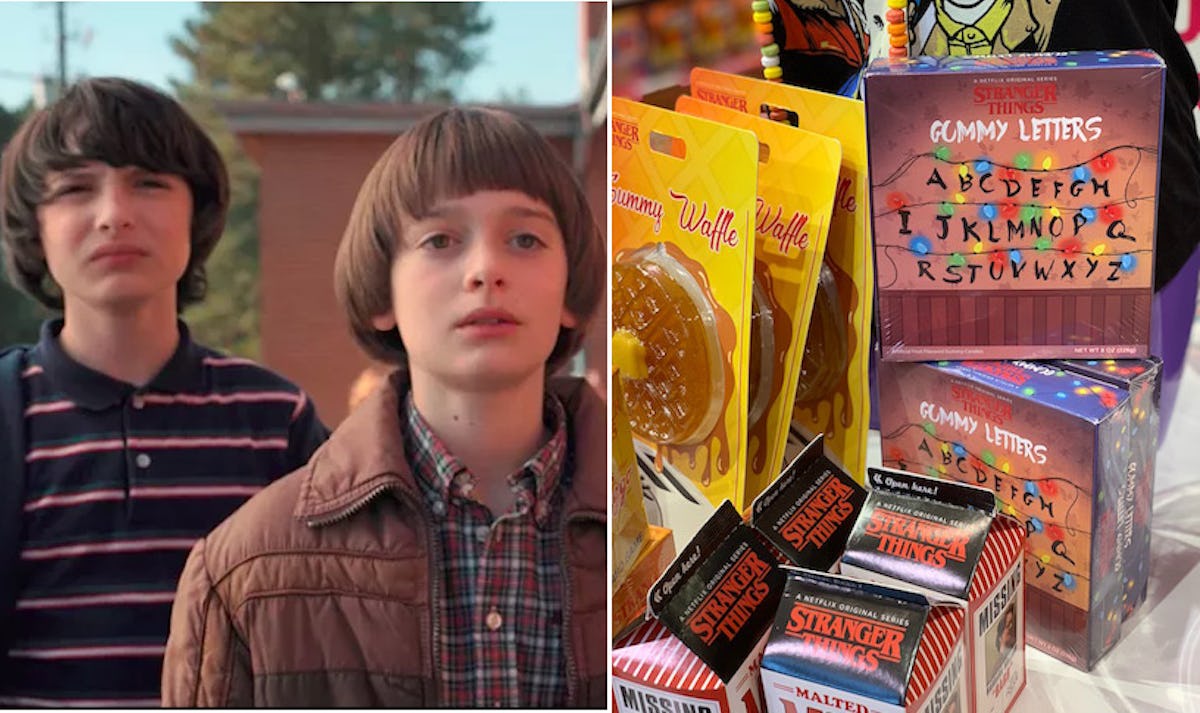 On A Scale Of 1-10, This New 'Stranger Things'-Themed Candy Is An... Eleven
Netflix/Courtesy of Tina Kolokathis
Get ready for your Halloween season to turn Upside Down, because a brand new Stranger Things candy line just debuted at IT'SUGAR and it's seriously b*tchin'. The candy store of your dreams released all of the goods on Thursday, Oct. 4 in partnership with Netflix, and I guarantee you'll be running to the location nearest you to buy it all.
For fans of Stranger Things, you know how important Eggos are in Eleven's life. Well, this new candy line couldn't go without including the iconic waffle. IT'SUGAR features Eggo a few times, with HUGE Gummy Waffles that are probably as big as your face and a Stranger Things Eggo Card Game. And the back of the packaging on the Gummy Waffles is seriously amazing, too — it reads "Not To Be Consumed By Mouth Breathers" and "Friends Don't Lie." UGH, when is Season 3 coming, again? I can't wait much longer.
As for the rest of the line, it's not like IT'SUGAR just took a 3 Musketeers bar and slapped the Stranger Things logo onto it. They truly incorporated Stranger Things storylines into each brand new piece of candy. There's a Pollywog Gummy (aka a baby Demodog — ILYSM Dart), Gummy Letters that look just like the ones Joyce Byers painted onto her living room wall to communicate with Will, and a Missing Barb Malted Milk Ball Carton. RIP BARB, I WILL NEVER FORGET YOU.
You can even find lollipops that feature each member of the gang (Will Byers' lollipop is flipped as if he's in the Upside Down), and Upside Down Slime, edible slime served in a vial straight from Hawkins National Laboratory.
If candy isn't your thing but you still consider yourself an honorary member of the Hawkins AV Club, don't worry. There are T-shirts, PopSockets for your phone, pins, collectible Pez machines that feature Mike, Eleven, Lucas, and Dustin, and more.
Founder and CEO of IT'SUGAR Jeff Rubin said in a press release for the candy,
We are ecstatic to partner with Netflix on this unique collection. IT'SUGAR has the ability to bring the Stranger Things universe to life through candy and we think fans of the series will love indulging in our new line.
So, when can you get your hands on all of the goods? Right now! The Stranger Things candy is in IT'SUGAR stores as of Oct. 4 and will be available while supplies last. The candy won't set you back much, either. The whole line ranges from $3.99 to $9.99. The PopSockets are only a few bucks more at $12.99, and the T-shirts are the biggest splurge (if you could even call it that) at $19.99.
I don't know about you, but with Halloween right around the corner, I feel like it's a perfect excuse to pick up all the Stranger Things treats to "hand out to trick-or-treaters," aka keep them all for myself and eat them while re-watching the series on Netflix for the 329348th time. To each her own, right?