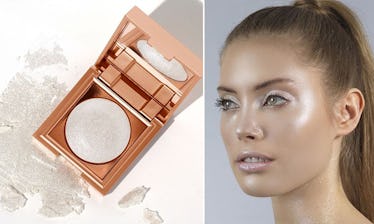 This New Highlighter Looks Like Straight-Up Crushed Crystals & I Can See Your Future
stilacosmetics on Instagram
I'm super particular about my highlighter selection — I look for ones with warm undertones (some of my favorites straddle the line between a highlighter and a bronzer) and I tend to stay away from ones that are too glittery. Though I'm a creature of habit, a single swatch of this silver-toned, glitter was all the convincing I needed to ditch my usual type. Don't believe me? Scroll through my Stila Heaven's Dew All Over Glimmer review and you'll be the silver-glitter type too.
The multi-use glimmer landed on my desk and my first instinct was to use it as an eye shadow. Though I might've discriminated against frosty highlighters for years, anything goes when it comes to my eye shadow. But after swatching the Stila Heaven's Dew All Over Glimmer on my arm, all I wanted to do was bathe in it — and just like that, my cheekbones craved a certain silvery shimmer, to which I obliged.
Another personal rule I stick to when shopping for highlighter is to stick to cream products — but that's just because I prefer cream over powder products in general. Though I've broken all my highlighter rules with this one, I can't decide if I'm sticking to the cream-product rule with this one or not. It comes in a single palette but it's creamy to the touch, and transforms into a powder the moment you swipe it on.
If you're a fan of Stila's cult-favorite Heaven's Hue Highlighter ($32; stilacosmetics.com) that comes in eight shades, you'll love Heaven's Dew All-Over Glimmer ($25; stilacosmetics.com), a spinoff. Same as the original, the new shade melts into the skin with ultra-fine, light diffusing particles that make you look lit from within with a soft, luminous, natural-looking glow.
After swatching this white-looking cream-powder hybrid on my arm, I was convinced to ditch my go-to eye shadow and highlighter. It sparkled like a million crushed crystals under the sun. The finish was a super fine silver glitter that looked like a real life Kira Kira filter.
I imagined wearing the highlighter as an opaque glittery eye shadow and pairing it with a soft and blurry shine on my cheekbones. After applying my foundation and blush and filling in my eyebrows, it was time to bring on the glow. For a glittery finish, I patted on the Heaven's Dew All-Over Glimmer with my finger one layer at a time until I was happy with shine. For a blurred finish, I swiped it on with a stipple brush in circular strokes. My cheekbones looked frosty and glowy, without a super glittery finish.
To be completely honest, I couldn't take a single picture that did the All-Over Glimmer justice. My cheekbones had a glow to them that is usually only achievable with oil, and the glitter on my lids made my eyes sparkle.
This beautifully lit video by Stila is a much better representation of the shimmer powers this Heaven's Dew has to offer.
My only recommendation is to proceed with caution. The light-catching finish and pillowy-soft texture makes it fun to experiment with, but it's easy to go overboard. Oh heck, forget it and have a ball. You'll be glowing in no time.