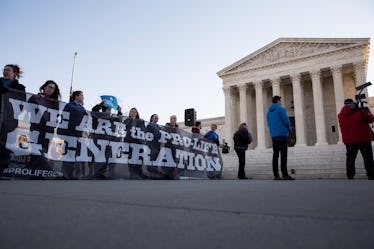 The Female Supreme Court Justices Came In Swinging On The Newest Abortion Case
Drew Angerer/Getty Images News/Getty Images
On Tuesday, March 20, the Supreme Court heard arguments inNational Institute of Family and Life Advocates (NIFLA) v. Becerra, the newest abortion case to hit the highest court in the country. The case hinges around what crisis pregnancy centers, also called fake women's health centers, have to tell women about the services they offer. The transcript of the hearing was released on Tuesday afternoon, and one particular quote from Supreme Court Justice Sonia Sotomayor on NIFLA is making waves for digging in to the issue.
The National Institute of Family and Life Advocates (NIFLA), an anti-abortion organization that supports crisis pregnancy centers, is challenging a California law, the Reproductive FACT Act, which was signed into law in 2015. The FACT Act requires crisis pregnancy centers, which are non-medically licensed facilities that exist in large part to convince women to not get abortions, to post notices to patients stating that public programs exist to provide prenatal and abortion care and that the "facility is not licensed as a medical facility by the State of California and has no licensed medical provider who provides or directly supervises the provision of services."
NIFLA is arguing that this violates the centers' First Amendment rights by forcing them to talk about abortion. Most of these facilities are religiously-backed.
Crisis pregnancy centers have been known to use deceptive practices to trick women into entering their facilities and to manipulate women's reproductive decisions using shame and medically incorrect information (which is why they're also known as fake women's health centers). The FACT Act would work to prevent women from being tricked and coerced.
While Supreme Court cases tend to work in technical legality and terminology, Sotomayor brought up a real-world example during the case hearing on Tuesday. Sotomayor began her questioning by confirming with Michael P. Farris, a lawyer for the centers', that they do not provide medical procedures, which is also part of their argument for why they shouldn't have to post notices.
Sotomayor then indicated that crisis pregnancy centers appear to advertise themselves as medical services. As an example, she said she'd checked out the website for the Fallbrook Pregnancy Resource Center, which does not provide medical procedures. Sotomayor said,
There is a woman on the home page with a uniform that looks like a nurse's uniform in front of an ultrasound machine. It shows an exam room.
The text of the page titled 'Abortion' says Fallbrook will educate clients about different abortion methods available, and describe in medical terms different abortion procedures.
The website also says clients will be evaluated by nurses and that they follow all HIPAA regulations, which if they're not a medical provider, they don't have to follow HIPAA.
If a reasonable person could look at this website and think that you're giving medical advice, would the unlicensed notice be wrong?
Sotomayor then linked the FACT Act to laws that require abortion providers tell patients that alternative options exist, in a practice called "informed consent." The Supreme Court approved "informed consent" laws in a 1992 case.
Sotomayor wasn't the only justice to make that comparison. Justice Ruth Bader Ginsburg directly asked at one point, "But why isn't this also informed consent ... so that the patient will know what are the array of services available to her?"
The NIFLA argument is that these laws would not apply to them because they do not provide medical procedures.
Supreme Court Justice Elena Kagan also added that "informed consent" laws often do not pertain to the abortion procedure itself. She said,
You know, the doctor having to inform patients about — that medical assistance benefits may be available for childbirth in neonatal care, inform women that the father would be liable to pay child support. So those kinds of requirements, they just don't seem to have much to do about informed consent. ... They're really the exact flip side of the requirements in this case. So how am I supposed to think about that?
Despite these lines of questioning from the liberal-leaning judges (including Justice Stephen Breyer), the fate of the case is far from settled for the pro-choice crowd. The makeup of the Supreme Court leans conservative (with Donald Trump's addition of Neil Gorsuch), and in the entirety of the hearing, the justices questioned the constitutionality of the Fact ACT. There were also questions about the specifics of the law, questions that still exist because the case did not spend time in lower courts. That indicates that it may be that the Supreme Court chooses to send it back down to lower courts to argue it out rather than make a decision themselves. You'll have to wait to hear what the justices decide to do — they'll either send it back to lower courts later this spring or announce a decision at the end of their term in late June.