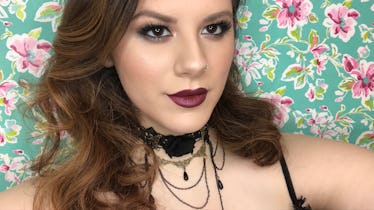 This Sexy Makeup Tutorial Will Leave You So Vampy, People Will Want To Carry Garlic
Kim Carpluk
Sometimes you just need to feel like a bad*ss MF — and makeup will always take you there. Most days, I'll put on some sensible nude shadow with a nude lip, but when I want to feel invincible, it's vampy makeup FTW. This sexy makeup tutorial is so gorgeously dark, men and women alike will need to arm themselves with garlic, wooden stakes, and straight up fire to resist you.
Vampires are sexy, right? Why else would we have so many books, movies, and televisions shows dedicated to their sexiness? Maybe it's the innate power they have to drain the life right out of you that's so alluring. Perhaps it's the uniform of dark red lips and smoldering smokey eyes that incite their magnetism. Though they are incapable of seeing themselves in mirrors, vampires (as they're depicted in our pop culture) somehow magically manage to always look fine AF, capable of seducing those around them for nourishment and sustenance purposes.
All joking aside, a vampy look will always turn heads. As Kylo Ren proves in the new Star Wars movies, darkness can be hot as hell.
So if you're ready to come to the dark side, then bust out that blood red lip you've been too scared to wear and let's get this party started.
I started with my everyday complexion routine. I opted for a fuller coverage, because I knew the dark lip would pull out any and all redness from my skin. I also used less product on my brows that usual because I didn't want to pull focus away from the eyes and lip.
Line Your Lips With The Blood Of Your Enemies
OK, maybe you don't need to be so dramatic. However, you do need to use a lip liner one shade deeper than your intended lip color to define the lips. This will give your lip shape a cleaner edge and help to prevent your lipstick from bleeding or shifting throughout the day.
I opted for the aptly named Kat von D Everlasting Lip Liner in Bloodmilk ($18, Sephora). Because the formula is waterproof, I quickly diffused the line in toward the center of my lip after defining the perimeter.
Since I knew my lips would be the focus, I wanted to get them on my face as quickly as possible. That way, I could balance all my other features to be in harmony with them.
Fill In With A Lip Color Almost As Dark As Your Soul
Wielding a lip brush and starting at the center of my lip working outward, I filled in my lips with the Kat von D Studded Kiss Creme Lipstick in Mercy ($18, Sephora). In my experience, dark lipsticks have a tendency to either sheer out or build up too much when applied directly from the bullet. A lip brush ensures that the saturation remains even across the entire expanse of the lip.
Already, I'm serving vampire realness.
Create A Smokey Base With The Ashes Of Past Lovers
Now that the lips are voluptuous enough to hide a set of fangs, it's time for the eyes. As per usual, I primed first for extra time.
For a dramatic look, a classic smokey eye is a must. Because I didn't want the eye to distract from the lip, I lightly dusted a light brown shadow from my lashline to my crease using a fluffy blending brush. The matte shadow base will water down the shiny, silver shadows that will follow. Plus, it will help to create an even gradient once we apply the darker shadows.
I used the Samael shadow from the Kat von D Shade + Light Eye Contour Palette ($48, Sephora), because clearly all Kat von D products give dark, vampire vibes.
I also smudged a little of the same shadow across my lower lashline to create a smudgy effect.
Step Into The Darkness
Now it's time to layer on the darker, smokier shadows. I used my Natasha Denona Eyeshadow Palette 28 in Purple Blue ($239, Sephora) for this, but I suggest using whatever shimmering, silver shades you have at home.
Because I wanted the lid to be heavily metallic, I sprayed my flat brush with some setting spray before swiping the Gray-Brown shadow from my lashline to my crease.
As per usual, I then followed up with a buffing brush to diffuse any hard lines and edges before bringing a little gray shadow to the lower lashline as well.
To brighten up the eye, I tapped a little Glaze (a lighter silver) shadow onto the center of my lid with my finger.
Line It And Lash It
Of course, if we're going this smokey, we need a healthy dose of black liner to the upper and lower waterlines. To prevent the line from looking too clean, I also smudged the black liner across my upper lashline.
Then, I followed up with several coats of deep black mascara and a casual pair of false lashes.
Paint On Your Flush So No One Knows You're The Undead
Often, dark, dramatic makeup can suck all the life out of your complexion, so I always like to touch up my blush last. I swept Tarte Amazonian Clay 12-Hour Blush in Exposed ($29, Sephora) from the apples of my cheeks up toward my temples.
Now you're ready to suck the life out of any and all creatures you come into contact with! Good for you!
Feel free to vamp it up to your little cold heart's content.