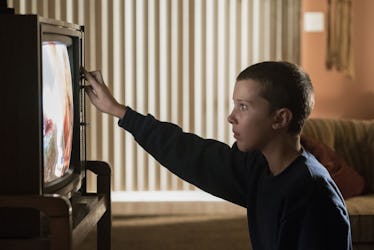 'Sesame Street' Did A 'Stranger Things' Parody & It's The Best Thing You'll See Today
Netflix
Growing up, Sesame Street was a staple in our house, with skits that were aimed at adults watching as well as little kids. Perhaps at age three, a kid couldn't understand why parents were laughing at such classic parodies like "Letter B," but the song was catchy and it helped teach the alphabet. Nowadays, HBO's version of Sesame Street aims their parodies more at televisions shows, such as their newest release to YouTube, Sesame Street's Stranger Things parody. Since HBO is a pay cable channel, they put the best stuff out on YouTube for everyone to watch, like they do with John Oliver.
In recent years, Sesame Street has spoofed everything from network dramas when they were still on the air, like 24 and 30 Rock, to older shows like their Spaceship Surprise! sketch (a Star Trek: The Next Generation parody) and Desperate Houseplants, (a parody of Desperate Housewives.)
Moving to HBO has also brought aboard lots of references to higher-end cable and streaming show, some of which you'd never expect a children's program to touch. There was The Walking Gingerbread (The Walking Dead), for instance. Also, House of Bricks (House of Cards), set in the White House. Game of Chairs (Game of Thrones) went through kings just like the real show, though not as bloodily. Orange Is The New Snack (Orange Is The New Black) comes from Snackflix. And then there was True Mud (True Blood), complete with the HBO static opening, which was actually "GrouchBO." Natch.
Now, Sesame Street has tackled the newest major hit on streaming, Stranger Things, with their parody "Sharing Things." Here's the synopsis:
In this parody of Stranger Things, the Cookiegorgon has eaten everything in the Snackside Down and is still hungry! Will he learn how to share, or will he continue wreaking havoc on the kids in town by eating all their treats? Tune in to find out!
And here's the video.
As has been true of most of the recent parodies, this one, once again, stars Cookie Monster, who seems to have emerged as the leading Muppet star for their online YouTube parody videos.
There are a lot of nice touches here, starting with the fact that the clip feels very episodic. Unlike most streaming shows, which attempt to create a ten or thirteen-hour movie, Stranger Things really does stick to the TV episode format, especially in the second season.
Also, note that beyond Cookie Monster, the cast members who get actual Muppets playing their parts are Dustin and Lucas, proving that in this second season, they were seen as the main leads. It's a cute touch giving Ernie teeth too (since the Muppet doesn't usually have them.) Also, there are tons of references back to the plot, including the continuing references back to Dart growing, and Cookie's remarks upon entering the Byers' home that he loves what they've done with the place.
Meanwhile, poor Mike and Will are merely assigned to a pair of what are known as "Anything Muppets," as are Joyce Byers, Max and poor Barb, who will never ever have justice, not even in a world where sharing is encouraged.
Chief Hopper is a rabbit, and I thought that was Eleven standing on the porch of the trailer behind them. But no. This being Sesame Street, Eleven and her sister Eight are played by... the Number 11 and the Number 8. Because Sesame Street, that's why.
Sesame Street is currently airing their 48th season on HBO, which then will air its second run on PBS Kids. We look forward to seeing what other hilarious and bizarre parodies they come up with this year.