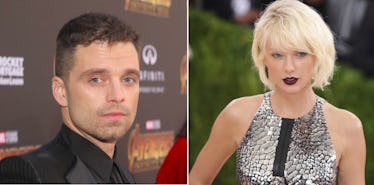 Tom Hiddleston's 'Avengers' Co-Star Just Threw Major Shade At Taylor Swift & It's So Juicy
Getty Images
You didn't think a Sebastian Stan interview about Tom Hiddleston & Taylor Swift wouldn't get attention, did you? Hiddleswift was only the most buzzed-about relationship of 2016... and people are still interested in the drama. The actor sat down as a guest on my personal favorite venue for celebrity tea-spilling, Bravo's Watch What Happens Live with Andy Cohen, and wasn't very shy discussing his thoughts on the short-lived romance. When asked by a caller about "his reaction" to his Avengers co-star Tom Hiddleston dating Taylor Swift and how he felt about that whole "I heart T.S." shirt thing, Sebastian weighed in: "It [his reaction] was one of awe and extreme concern. Obsession and yet at the same time ... I don't know, I was really worried — mainly for him."
Andy chimed in that Hiddleston "went in hard there" and Stan couldn't help but respond, "But you know, love is quick, and hard." Fair enough?
So, what does "worried" mean in this situation? The romance gained a ton of media scrutiny, as Taylor's boyfriends are always a topic of discussion, so perhaps Sebastian's pointing to all the hullaballoo surrounding their public courtship. "Extreme concern" sounds like it could be a lighthearted exaggeration, so this remark is just confusing. Or not.
Sebastian actually admitted he "forgot about the incident" and added that he and Hiddleston have never discussed it, so maybe he wasn't that concerned after all.
Taylor Swift and Tom Hiddleston were in a relationship for three months over the summer of 2016. The famous duo appeared to hit it off at the Met Gala on May 3 of that year after a video of them dancing at the event made the rounds.
Swift and Hiddleston were spotted together throughout June of 2016 following her breakup with boyfriend of over a year, Calvin Harris. They were photographed in both England and Italy and the couple reportedly met one another's parents. Taylor's Fourth of July extravaganza was the spark that really ignited the gossip flame, as pics surfaced from the weekend of Hiddleston wearing an "I Heart T.S." tank top as he frolicked in the ocean with Tay and her pals. Unsurprisingly, the internet jumped on the overt sartorial public display of affection.
In August of 2016, Hiddleston commented on what he had learned from dating a superstar like Swift. The Night Manager star explained, "I've learned that there are many sides to a story, and that sometimes there are a lot of stories out there which are false and the hardest thing is to try to not let those falsehoods affect your own life, that's what I would say."
Cut to about a month later on September 6, when news of their breakup broke courtesy of Us Weekly.
It's been nearly two years since the high-profile pair decided to go their separate ways. Taylor has moved on and is currently dating another British actor, Joe Alwyn. You can analyze her songs all you want for meaning, although Swift hasn't exactly commented on the Hiddleston relationship. Tom did open to GQ about the experience, shooting down the notion that it was some sort of publicity stunt.
"Taylor is an amazing woman," Hiddleston said of his ex in a February 2016 interview. "She's generous and kind and lovely, and we had the best time… Of course it was real." He also added how surprised he was by the attention his now-notorious choice of tank top received. "The tank top became an emblem of this thing," Hiddleston noted, explaining that he borrowed it because he didn't want to burn his back.
Understandable. Sunburn is legitimately something to be "concerned" about.