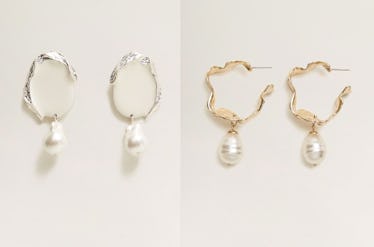 Pearl Earrings Are Back, But They're Definitely Not The Stuffy Kind You're Thinking Of
Mango
Of all the fall jewelry styles that are springing up, the one I thought I would dislike the most has actually turned out to be one of my favorites. The pearl earring trend is far from old fashioned or grandma-like or sorority photo appropriate, so if the mere mentioning of the luminescent stone typically makes you feel blegh too, that opinion might change after reading this. My grandma loved costume jewelry. The number of brooches and clip-on earrings and gaudy rings that she owned could probably contend for a world record. Naturally, much of her collection was studded with or strung with pearls. I loved my grandma, but I did not feel the same way about her style, even as a little girl.
I stayed far away from pearls all the way through college, associating them with her aesthetic, and even when I inherited her prized strand of freshwater pearls, I never wore it. (Of four granddaughters how was I chosen to get that heirloom?)
This all backs up the fact that when pearls started to reemerge as cool, like, beyond cotillion and Greek life, I was skeptical at best. But honestly, the new ways in which they're being reimagined into thoroughly modern pieces of everyday jewelry is cool. Super cool.
Pearls, often misshapen and natural-looking, are being strung onto architecturally-shaped metal frames or used as cool accent charms for especially cool earrings. They look artistic and fun and stylish—and like something I am actually dying to wear. Check them out for yourself below.
Drop It Like It's Hot
I love a good drop earring and this one is no exception. The perfectly circular beads and hoops are an awesome contrast to the amoeba-like pearls, which all combine to make an accessory I'd wear 24/7.
Ride the Wave
Dangling from rippled hoops, which look appropriately like gilded waves, these pearls boast an egg-like shape. The earrings are elegant and elevated without looking pretentious. And they'd pair with a nice dress just as well as a white tee.
Don't be Shellfish
Symmetrical earrings allow their wearer to show that they like to have a little fun with their look and that they don't take fashion too seriously. This pair features a shell on one side and the product it can create, a pearl, on the other.
Silver Linings
The pearls almost look like they were added as an afterthought to the gritty silver and enamel portion of the earrings—and that's why I love them.
I'm Charmed
My kind of a statement earring. I'd wear these with every slicked back low bun ever.
Pearl & Chain
These thread through your ears for a delicate and bouncy effect.
Shape Shifter
Are you seeing little pouty lips in the silver part of these earrings, too? Of all the picks in this roundup, these remind me most of my Grandma's jewelry.
Put Rings on It
Another asymmetrical option, this pair plays a bit of an optical illusion by adding an extra hoop.