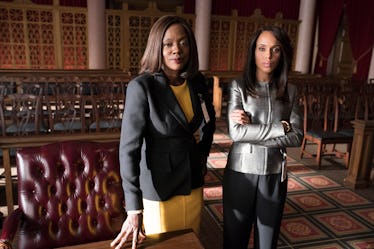 This 'Scandal' & 'HTGAWM' Clip Will Make You Want To Get Your Popcorn & Wine Ready
The day Shondaland has been anticipating for weeks is finally here – on March 1, the Scandal and How to Get Away with Murder crossover episodes hit the air. From the moment Kerry Washington and Viola Davis shared behind-the-scenes pictures of the crossover right after New Year's Day, fans of ABC's TGIT lineup have kept theirs ears peeled for more news of their characters coming together. With mere hours to go until the episodes, E! News has released this Scandal and HTGAWM clip that details Annalise and Olivia's first meeting. Spoiler alert: It's quite epic.
In the exclusive clip from the Scandal portion of the crossover, Olivia is speaking to a law school class about crisis management. When she asks students what the biggest mistake people make in a crisis is, only Annalise, tucked away in the back of the classroom, knows the answer.
Olivia, clearly impressed by the other woman's knowledge, asks for Annalise's name. If the reveal of Annalise wasn't enough to give you chills, her delivery of "Keating, Annalise Keating" will definitely do it for you.
Olivia's reaction to Annalise also hints very heavily at how much she knows about the lawyer through word of mouth. Is it just me, or does Olivia seem to know who Annalise is before she even introduces herself?
As seen in the last HTGAWM episode before the Olympics, Annalise was drawn to attend Olivia's guest lecture, "How to Survive a Scandal," after Michaela told her they should appeal to the Supreme Court about Annalise's class action lawsuit. Entertainment Weekly reports that on the new episode of Scandal, Annalise and Michaela join Olivia in D.C. to attempt getting their judicial reform class action to Supreme Court. Olivia, struggling with her reputation in the political world, will then assist Annalise in presenting her case to the Supreme Court on How to Get Away with Murder.
HTGAWM showrunner Pete Nowalk spoke to EW about the crossover, promising that Olivia and Annalise's interactions with each other provide the true highlight of the episodes:
That's the fun of the episode. These are two really unique, strong-minded people. The other thing about them is that they both are used to giving orders, not taking orders, especially Annalise, so it's going to be interesting to see if she can do that, if she can listen to someone else's advice even if she disagrees with it. What's awesome about the two hours is neither one of them gives up who they are, but they are both working for something bigger than themselves. I think it's interesting to watch if they can put aside their own egos, put aside their own styles, to succeed and get this victory they both want.
The surprise appearance of Olivia at the end of the last HTGAWM episode included a literal collision of worlds for the two shows. Olivia being in a classroom and writing on the blackboard, as Annalise was introduced in the series premiere, definitely foreshadows underlying similarities between the two women.
The cliffhanger understandably sent fans into a spiral, and their hype only built over the show's time off air.
The crossover will be preceded by Grey's Anatomy, which plans to introduces the main character of its upcoming spinoff series Station 19. ABC also released an extended clip of Station 19 heroine Andy's first appearance ahead of the Grey's Anatomy episode. Station 19 officially launches on Thursday, March 22, with a special two-hour episode.
It looks like I'm going to be glued to ABC tonight. After Grey's Anatomy airs at 8 p.m. ET tonight, the Scandal hour of the crossover is at 9 p.m. on ABC. How to Get Away with Murder follows at 10 p.m. Time to stock up on plenty of wine!