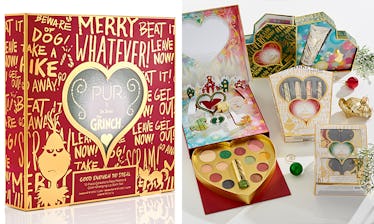 This PÜR x 'The Grinch' Collection Will Make Your Heart Grow Three Sizes This Year
PUR
I'm not one to rush the holidays — in fact, the idea of starting another year is totally freaking me out — but when I got my hands on this PÜR x The Grinch Collection, I actually counted the days until December (FYI: it's only 57 days away). PÜR's five-piece collaboration gave me all the holiday feels with Dr. Seuss-inspired packaging, green and red color palettes, color-changing products, and holiday-scented products to boot — all of which instantly transported me to snowy Whoville, even though it's only October! Here's a look at the entire collection, in honor of Illumination's new version of Dr. Seuss' The Grinch animated movie, debuting in theaters Nov. 9.
The collection is made up of some adorable collector's pieces, including some seriously giftable items for the Dr. Seuss fans on your Christmas list.
3D Pop-Up Eyeshadow Palette
Just like Dr. Seuss' iconic books, this eyeshadow palette tells a complete story from it's mini Whoville pop-up town on top, to the gold heart-shaped palette hidden inside, and the quote etched on the mirror that says, "The Grinch's small heart grew three sizes that day!" I told you it would get you in the holiday spirit!
The Grinch Good Enough To Steal Face Palette & Color Changing Lip Balm Set ($42; PÜR) has a sliding compartment that houses a 10-piece makeup set, including super pigmented matte and glitter shades, a blush, highlighter and a shade-shifting lip balm that starts off Grinch green and transforms into the perfect shade of pink when applied to your lips.
Color-Changing Mud Mask
There are two things I love about this mask. It changes colors when you apply it to your face (from green to pink) and it sucks all the bad stuff out of your face, so you can go from dirty and grumpy to cheery and bright.
Grinch Stole My Look Color-Changing Skin-Perfecting Clay Mask ($29; PÜR) is packed with licorice and sugarcane extract to deep clean and brighten your skin and sunflower seed, jojoba and olive oils to moisturize. Plus, it smells like peppermint!
Skincare-Filled Ornaments
Not only will your face glow with what's inside these ornaments, your living room will sparkle when you hang them on your Christmas tree.
Each ornament in The Grinch Beware of Perfection 4-Piece Mask Sampler Gift Set ($28; PÜR) is filled with one of Pür's face masks, including Soak It Up, Glitterally Gold Brightening Peel-Off Mask, Purple Pore Punisher and Dirty Girl Face Mask. Use them all at once for a multimasking experience or wear one at a time.
Gold Makeup Brushes
Designed to mimic the Grinch's long pointy fingers, these makeup brushes are much prettier and way better for applying makeup.
The Grinch He Hates It, You'll Love It 5-Piece Brush Set ($38; PÜR) will look gorgeous on your vanity far past the holidays.
Christmas-Colored Liquid Eyeliners
Who said you can't wear red and green eyeliner?
The Grinch Heart Line 4-Piece Liquid Eyeliner Set ($28; PÜR) comes complete with super pigmented shades and a thin brush, which means you can create so many holiday-themed eyeliner looks.
While you might have some waiting to do before the holidays are upon us, the collection launched on the brand's website on Oct. 1, so you can get all your favorite Grinch-themed makeup and skincare items now.