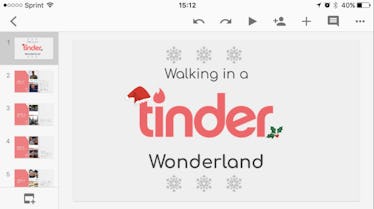 This Girl Made Her Sister A Tinder PowerPoint For Christmas For The Best Reason
Because of the holidays, fun cold weather activities, and endless cozy nights in, many people feel that having a partner in the winter season is ideal. And sometimes it's helpful to find those who are single and mingling a holiday gift that caters to their #singlelife. One bold AF woman in Chicago, Illinois designed a Tinder account for her single sister, and created this viral PowerPoint of Tinder dates she matched with. TBH, it was the most thoughtful Christmas gift ever. So this one goes out to all the single ladies... now put your hands up.
Meg Steffan, a self-proclaimed dad jokester, literally jumped through hoops this Christmas to play matchmaker for her sister, Emily. She first set up a Tinder profile for her sis, snagged a super cute photo for her profile pic, and then crafted a hilarious bio, explaining her beloved and thoughtful Christmas gift to Emily's future lovers. To rack in those suitors, Meg wrote,
This Tinder is actually run by Emily's sister, Megan. I'm a cheap skate, so for Christmas, I'm getting my sister a tinder date. I'm looking for a brother in law, y'all, so NO HOOKUPS!! Em is a great gal with an alright personality, loves photography, and is a killer barista. Her best quality is being my sister. SERIOUS INQUIRIES ONLY!
Steffan tweeted that she quickly matched Emily with 85 guys and interviewed 39 of them. From there, she created an in-depth PowerPoint showcasing each of the lucky interviewees, very appropriately titling it, "Walking in a Tinder Wonderland." Honestly, if that isn't true sisterly love, then what is?
During the process, the Tinder guys that she spoke to found her project to be hilarious. Upon sliding into their DM's, Meg said some of them thought it was a joke, but many of them were super interested in the off-beat gift. Meg talked to Elite Daily about the present, and says,
Many people asked if the account was a joke, some automatically offered their services, and most just found it funny! One of the guys volunteered to be wrapped and placed under our Christmas tree!
Steffan reveals to us that the idea did start as kind of a joke, which she mentioned to Emily in passing. She then decided it would be a personal — and super funny — Christmas gift, so she went through with it. However, the gift didn't stay a surprise when a Tinder-using friend of Emily's found her page, but Steffen still continued working on her hunt for Emily's one true love. On Christmas, Meg gifted her sister with the super organized PowerPoint of all her potential dates. Apparently, Emily was beyond grateful, and (hopefully) is ready to pursue a date or two. Meg tells Elite Daily,
Before I even thought of seriously doing this, I made a joke I'd get her a dating profile for Christmas. I then realized I struck gold. After beginning the process, one of her friends saw her profile while he was swiping on Tinder, so he screen shot it and sent it to her. After that, she knew I was doing it, but she had no idea how many guys or how much effort I was putting into it! It was still a surprise!
So if you thought you had a good sister, Meg Steffan's unique and undeniably innovative Christmas surprise literally saved Emily from enduring a ton of swipes, a good amount of small talk, and a whole lot of filtering through pages of Tinder suitors. Honestly, who knows the perfect date for you better than your sister?
Check out the entire Gen Why series and other videos on Facebook and the Bustle app across Apple TV, Roku, and Amazon Fire TV.