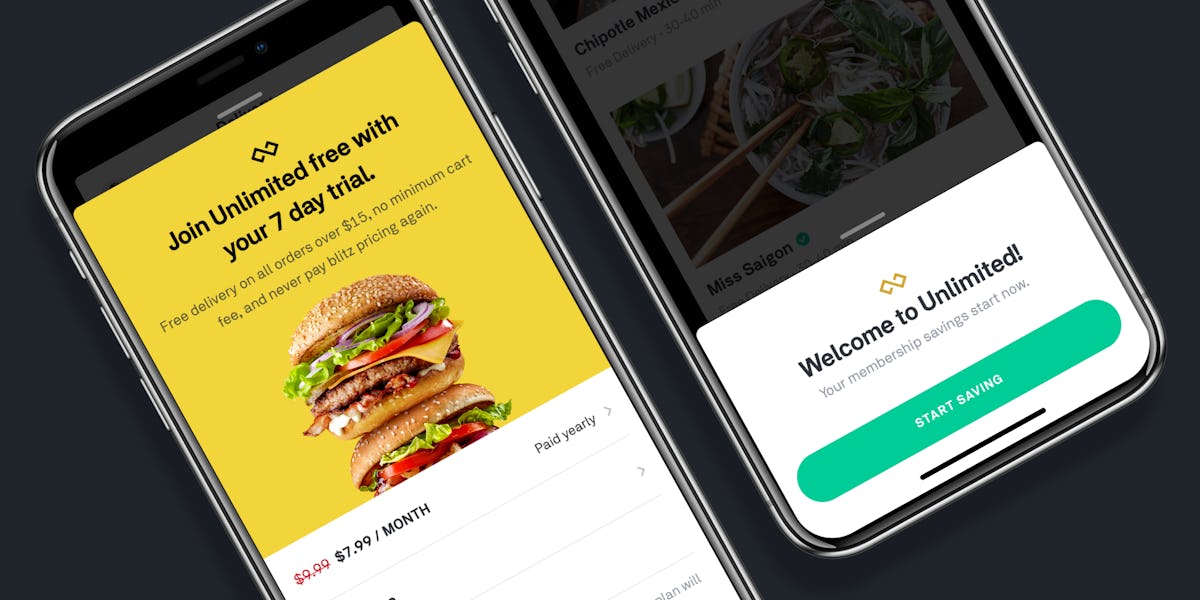 Your Chipotle Delivery Is About To Get Cheaper With This Postmates Unlimited Update
POSTMATES
I might be pretty good about eating in and meal-prepping during the summer, but as soon as the temperatures drop, you can catch me on my couch with a takeout container in hand. Unfortunately, my wintertime delivery habit is not the most conducive to saving for the holidays, which is why a set delivery plan likes Postmates Unlimited is essential for my bank account. I was excited to see that the delivery purveyors at Postmates are updating their annual subscription service on Oct. 4, because this Postmates Unlimited update will help you cut down on delivery fees for all those nights when, let's face it, leaving your couch is the last thing you want to do.
Starting on Thursday, Oct. 4, the delivery retailer revealed that it is making some big changes to the Postmates Unlimited program that could make ordering in cheaper than before. In response to twice as many subscribers joining the Unlimited Program this past year, Postmates announced via a press release that it is cutting the delivery minimum of your order down from $20 to $15, which makes it a much more cost-effective option for one person eating in or purchasing some small items from a pharmacy or grocery store — all of which you can order to your doorstep in under one hour with the tap of a button.
"Since we launched Unlimited in 2016, it has been highly successful, growing 300 [percent] year over year," Kristin Schaefer, senior vice president of Strategy & Finance at Postmates, said in a press release. "Unlimited has become a way of life. Nearly 1 in 3 orders on Postmates are coming from our members and in some of our key markets, nearly 1 in 2 orders come from Unlimited members."
If you're a takeout addict like me, I'd definitely recommend checking out the Unlimited program, because you can potentially save approximately $200 per year by taking advantage of the monthly subscription service, according to Postmates. With the Unlimited program, you pay just $7.99 a month when the annual amount is paid all at once, or you can opt to spend $9.99 month-to-month. Either way, you're getting a good deal. If you think about it, $7.99 is basically the cost of just two orders each month, so there's no reason not to try it.
"The more than 300,000 merchants and 240,000 Postmates on our platform are seeing the benefit of more orders and higher spend from Unlimited members, who spend over twice as much annually compared to non-members," Schaefer continued in a press release. "On average, Unlimited members spend more than 50 percent more than the average Amazon Prime subscriber -- this increase in spend across multiple categories drives meaningful growth for our merchants and fleet."
In addition to lower minimum orders, Postmates is also giving members some extra perks with its unlimited program, so I'd take full advantage of those if you choose to sign up. In addition to eliminating the small-cart fee (so you don't have to waste 15 minutes hunting for the cheapest item on the menu to put you over the limit) and consistent surge-free pricing, being a part of this coveted delivery club can also score you access to "secret shows, festival lounges, and more," per the press release.
I don't know about you, but this sounds like as good a reason as any to order delivery tonight and Netflix 'n Chill.