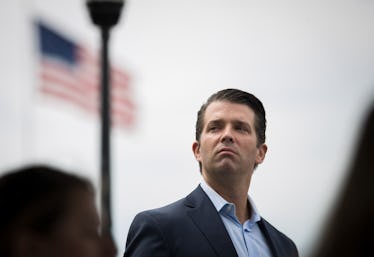 This Picture Of Donald Trump Jr. & His Girlfriend Is So Awkward, I Can't Handle It
Drew Angerer/Getty Images News/Getty Images
When you start a relationship, it's only natural that you want to take as many pics as possible to show off your new bae. I mean, you think they're the best thing since sliced bread, so everyone else will too? Well, maybe remember that no matter how good you want to look for the world, there are limits. For example, this photo of Donald Trump Jr. and Kimberly Guilfoyle, where the pose and the level of (bad) Photoshop has combined to hit peak awkward. Seriously, this is like eighth-grade-yearbook levels of uncomfortable.
Trump Jr., the eldest son of President Donald Trump, has been dating Guilfoyle, a former Fox News host, since about May, but the two only went Instagram official in late June, when Guilfoyle posted photos of herself and Trump Jr. on a fishing trip in Montana. While a fishing weekend is a very... specific... kind of date, the photos of the two looked relatively natural and happy. The pair looked outdoorsy and like they were having a good time in waterproof clothes and baseball caps, mugging for the camera with some fish.
But since then, it looks like someone's developed kind of a heavy hand on the airbrush tool, and the poses have gotten, well, a lot more posed. This Instagram of the happy couple that Guilfoyle posted on July 31 is some 1980s Sears Portrait Studio business, and I can't stop laughing — not at the two themselves, but at this weird editing.
Did they photocopy a portrait of themselves out of a tabloid? Why is it so washed out and blurry? Why are they standing with their arms around each other, but still look so stiff? This looks like an awkward graduation photo with the cousin you haven't seen since you were 12, not a romantic snapshot.
Here, just compare with the photos Guilfoyle posted back in June. Back then, they at least looked more alive than the fish Trump Jr. was holding.
While everyone has their own taste and Guilfoyle and Trump Jr. are certainly within their rights to post whatever makes them feel happy about themselves as a couple, the photo was honestly just too awkward to pass under the radar. In fact, Queen of the Internet herself, Chrissy Teigen, even picked up on it and reposted it on Twitter, captioning it with what she imagines they were saying when they took the photo.
The rest of Twitter couldn't help chiming in. Why was that photo so awkward?
What a time to be alive.
Though Trump Jr. and Guilfoyle have only been dating for a few months, the romantic history there is a bit more complicated, seeing as Trump Jr. is only just getting out of his 12-year marriage. On March 15, Trump Jr. and his wife Vanessa Trump announced that they were splitting up after more than a decade together. In their official announcement, the couple said that the split was amicable and that their priority was their five children. It read,
After 12 years of marriage, we have decided to go our separate ways. We will always have tremendous respect for each other and our families. We have five beautiful children together and they remain our top priority. We ask for your privacy during this time.
While there's nothing fun or funny about a family dealing with divorce, at least we can all rest assured that Trump Jr. has as much comfort as Photoshop can bring him. It's something.