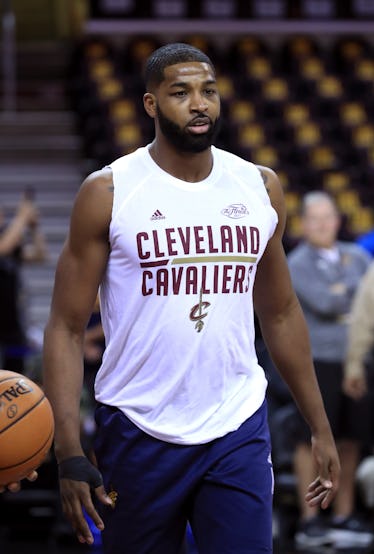 The First Photo Of Tristan Thompson's Son Is Here & It Will Melt Your Heart
Ronald Martinez/Getty Images Sport/Getty Images
Hey, do you feel like wiping happy tears from your eyes today? You do? OK, great. Because model Jordan Craig posted a photo of her and Tristan Thompson's son, Prince, on Instagram and I can guarantee that it will make you feel things. A year ago, NBA basketball star Tristan Thompson and Jordan Craig welcomed Prince Oliver into this world, even though at the time they were no longer dating (and Thompson was already being linked to seeing Khloé Kardashian).
Apparently, Khloé had no qualms about the fact that Tristan Thompson was a baby daddy, and even gushed to Health about how she found happiness in her relationship with Thompson, calling him a "cutie":
I'm five-ten, and he's six-nine. I love athletes. Someone who has the same interests as me, who likes to work out, like that's their hobby or their job, that's fine. Tristan is who I'm into. He's a little cutie.
Kind of loving that our girl Khloé has found love, TBH.
So we all know that Thompson is clearly a "cutie," but since Prince has been born, neither he nor Craig has shown his face on any forms of social media. Kind of a bummer, but we totally get wanting to keep your child's privacy as your most important rule growing up when you're hella famous.
But guess what? I told you that you'd need a tissue to help control your ugly crying, and I do not disappoint. For Prince's first birthday, Craig has finally revealed a photo of her and Thompson's son, and it will make you squeal.
Can I just show you how FREAKING ADORABLE it is?
My favorite part? Aside from the picture-perfect pose, the gorgeous setting and the smiling mom-and-baby-duo, I have to say that the caption makes my heart melt. Craig captioned the adorable snapshot, "#MemoriesWithYou," and now we can all just let our tears fall like water coming from a damn faucet.
I'm also just going to point out that, while we do get to see a glimpse of little Prince, the photo is taken from a distance so that his face isn't the focal point of the image. But hey, we will absolutely take what we can get.
This photo comes at a time where the world is wondering if Prince will be expecting a new baby brother or sister, too. Although neither Kardashian nor Thompson have officially confirmed that they are having a baby, there have been clues over the last few months that nod in the direction that Khloé is, in fact, expecting.
It's hard not to speculate, especially when there's SO many teasers on Khloé's social media that hint at being pregnant. On Halloween, she posted a video of Thompson on her Snapchat Story, captioning it, "That's Daddy," which could be taken as an interesting term of endearment for her man, or as an in-your-face confirmation of their pregnancy:
There's also the fact that Khloé's social media is usually bursting with body-revealing shots of her (because she's fierce and she KNOWS it), but recently that is definitely not the case:
Interesting indeed.
And the most recent piece of evidence that points to the fact that Tristan and Khloé are expecting is the new Keeping Up With The Kardashians mid-season promo, which subtly alludes to Khloé making a very big announcement to her family, and the reaction we see from everyone:
You cannot tell me that the moment Kourtney smiles and glances down toward baby belly-range is not THE moment where they all find out about Khloé and Tristan's pregnancy news, right? RIGHT?
These Kardashians are killing me, man.
So, when will we find out if Prince is getting promoted to big brother duty? While we don't know for sure, I know that I'll be setting my hopes on a holiday miracle and am envisioning an announcement on Christmas morning.
Khloé, if you're reading this, do us all a favor and give us the best gift we've ever received: definitive answers, please and thank you.