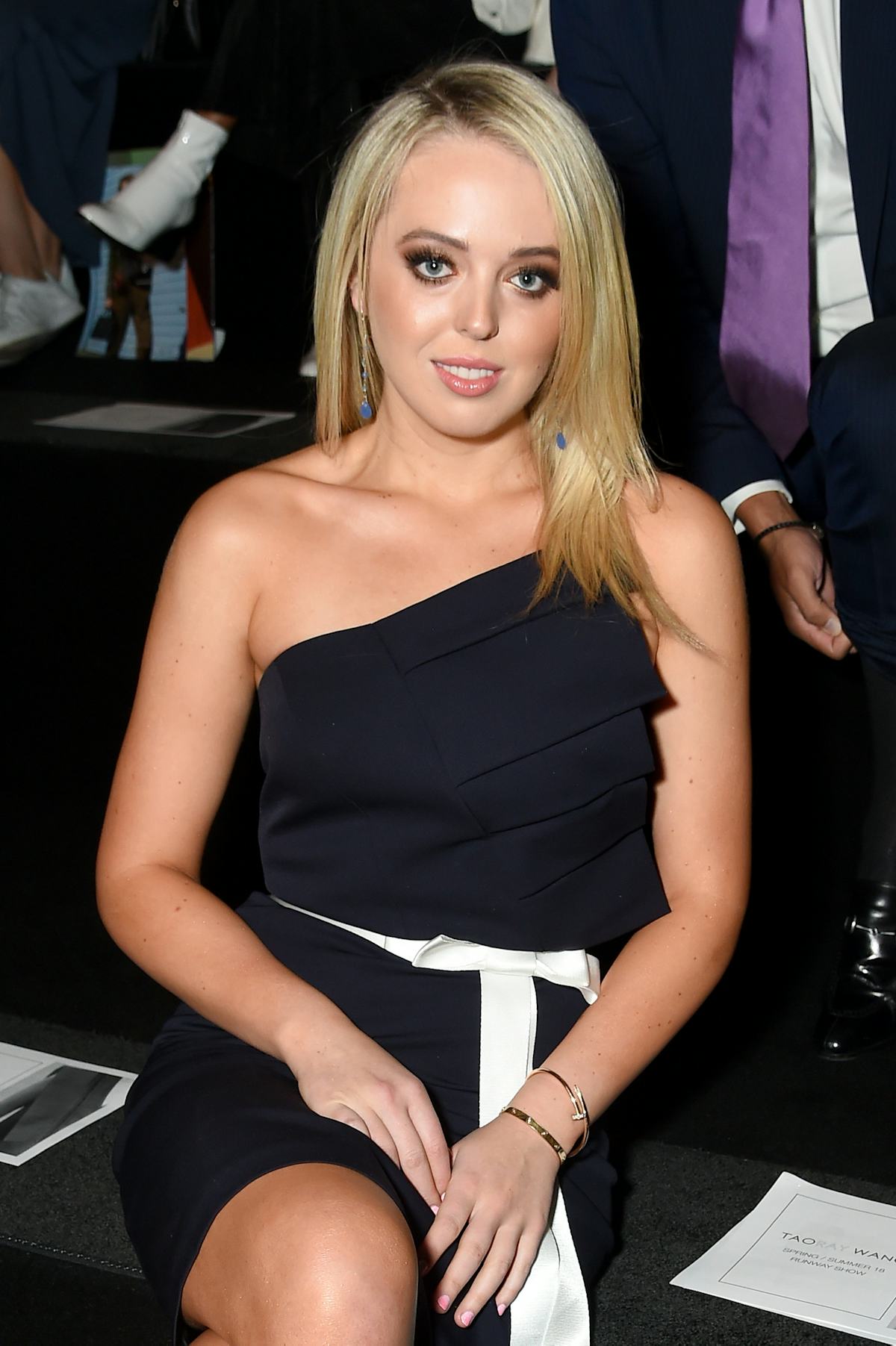 Tiffany Trump Looks So, So Much Like Her Mom In This Adorable #TBT Pic
Nicholas Hunt/Getty Images Entertainment/Getty Images
Woo-hoo, #TBT is here! If you thought had seen every cute mom-and-daughter comparison photo possible on this weekly holiday, you're so wrong. Marla Maples just posted an uber-adorable picture of her daughter and this photo of Tiffany Trump proves she looks exactly like her.
On Jan. 18, the actress/television personality hopped on Instagram to share the cutest comparison photos of her and her daughter at 3 years old. One photo shows a young Maples sitting at a table, dressed in a teal tank-top and stuffing her face with food. The other depicts a young Trump sitting at a table in a cute burgundy sweater, slurping down some delicious-looking pasta. The mother-and-daughter duo both have their long blond locks pinned into ponytails with their big, beautiful eyes front and center.
Maples captioned the photo,
Like mama… Like daughter :-) both of us girls were almost 4 and loving our spaghetti #tiffanyandme #momsanddaughters #somethingsneverchange except the #glutenfreepart
Before you see for yourselves, I'll warn you, when I first saw the picture; I wasn't sure who was who. The two seriously look like twin sisters. If there wasn't a difference in the image quality, I might not have ever guessed correctly at all. But you should see for yourself.
See what I mean?
There's something so nostalgic and evocative about seeing photos like this. You always kind of know how much you look like your parents, but when there are side-by-side photos of both of you pigging out on spaghetti, something about that just proves how transferable genes and interests really are (and makes me wish I had a plate of pasta).
The health and wellness advocate often shows off her gorgeous daughter on her social media page. Last week, on Jan. 11, Maples shared a really sweet, 90s-era photo of her and Trump, posing together in matching blue sweaters, Maples' turtleneck designed with royal blue snowflakes. The two look they just finished making cookies (and the dollop of icing on Maples' nose probably proves it).
I could get used to this #TBT trend.
But seriously from the over-sized hair bows to the Christmas sweaters to the nostalgic griminess of the Polaroid cameras Maples' pictures were probably taken with, you're bound to mentally teleport back into the 90s.
Both photos were taken around the time Maples and Donald Trump separated. The ex-couple married in 1993 and separated in 1997 when Trump was just four years old. When they divorced in 1999, Trump moved to California with her mother.
Since she moved away from her father, she didn't have access to him in the ways that her siblings did. In a 2016 interview with The New York Times, Maples shared that Trump wanted to get closer to her dad as an adult. She told the publication,
"She'd like to get to know her father better and spend time with him like his other children did: by going to his office and watching him work."
And perhaps she does. In the present, Tiffany's followed her father to Washington D.C., where she's currently in her first year of law school at Georgetown University.
Maples also opened up about raising her daughter on her own in an interview with FOX411 in 2016. She said,
I always wanted to make the breakfast. I wanted to be there for carpool. And I wanted to make it to every sporting event, every dance, every play and making sure, no matter what, at the end of the night, we could have a great meal at home together … She'd do her homework, I'd make dinner, we just got to snuggle together.
Adorbs.
As for Tiffany, she often chronicles her life on Instagram. Though she's 24 years old now, she still looks like the little girl that Maples still loves to show off on her social media.
So maybe it's not as heartwarming as her mom's #TBT posts, but it's pretty darn close. And at this rate, we can probably expect Maples to bless us with a new one next Thursday anyways.
Hopefully this time she'll leave out the food. The temptation to grab what they were snacking on is too real.