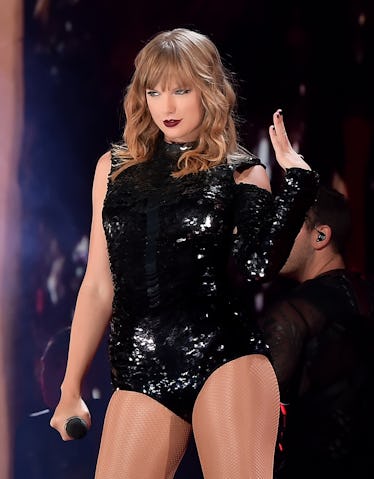 Taylor Swift Did A Whole Concert In The Rain & It Was Just Like One Of Her Videos
Kevin Winter/Getty Images Entertainment/Getty Images
If you want to do a giant show in an open-air stadium, you've gotta hope the weather plays nice — and even if you're Taylor Swift, sometimes you're going to be disappointed. On Saturday, July 21, the pop queen got a damp surprise when heavy rain interrupted her concert in New Jersey, but if you think that stopped her, well, guess again. This photo of Taylor Swift's concert in the rain looks like an amazing time, and I am as of now super jealous of everyone who was there. Seriously guys, you've seen Taylor dance in the rain before, but this is a whole new beast.
On Saturday evening Swift was performing at the MetLife Stadium in East Rutherford, New Jersey as part of her Reputation tour, when good ol' Mother Nature decided to prove she's apparently a Katy Perry fan. As Swift was performing, the skies opened up in a pretty epic downpour, drenching the stage, fans, and Swift alike. But Swift is way too much of a pro to let a little water get her down. No, she went ahead and performed through the whole thing — even posting it to her Instagram story later. Honestly, I would too, because it looks like it was a pretty epic night (if more than a little damp).
After the show, Swift posted a short video of herself performing to her Instagram Story, completely drenched and singing her song "Fearless." She captioned it, "YEP IT RAINED THE WHOLE SHOW," along with an umbrella emoji.
I gotta give her some props for not only going on with the show, but doing it with such a boss attitude and giving her fans the time of their lives. Personally, that level of "wet" combined with all those fancy electronics makes me a little nervous (water and electricity don't mix, you know), but it seems like it turned out OK in the end.
Swift's fans loved it, anyway. After the show Swifties were all over Twitter, talking about what an epic, memorable, and wet night it had been.
Of course, this isn't the first time we've seen Swift enjoying the rain. Not only is it a metaphor in several of her songs ("Clean," anyone?) but in case you've forgotten she literally dances her way through the rain in her video for "Delicate." So seeing her get to sing in the rain IRL feels like it must be Peak Taylor Experience, and I am incredibly jealous that I wasn't there.
BRB, just gonna be humming "Delicate" and "Clean" from now until the end of time.
But while the rain may not have been part of the plan, it wasn't that unexpected. Shortly before the show a still-dry Swift posted to her Instagram Story talking about the forecast, which was bleak.
"Been looking at the weather reports tonight for MetLife Stadium, uh — think it's gonna rain," she said in the video, captioned "Mom doesn't stan rain like I do." She continued, "It's 80-90 percent chance of rain, but we like the rain, don't we?" She turned the camera to show her mom Andrea Swift, who looked less than thrilled. "I love it, personally," Swift finished.
Well, Swift got her wish, because the rain did in fact come pouring down. While it looks like it made for an epic night, I'm wishing Swift a slightly drier time for her next show. Or at the very least, keep a couple of towels backstage.