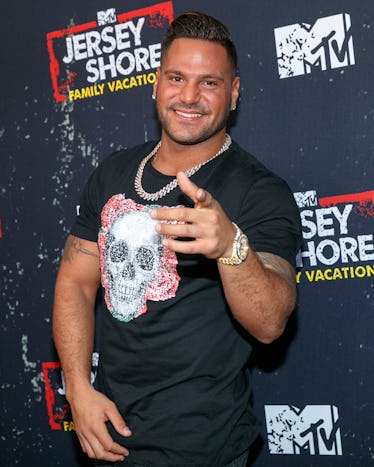 Ronnie From 'Jersey Shore's Ex Posted The Cutest Photo Of Their Daughter & I'm Swooning
Rich Polk/Getty Images Entertainment/Getty Images
Babies make everything better. Well, almost everything at least. Jersey Shore's Ronnie Magro and his reported ex-girlfriend Jen Harley welcomed their daughter, Ariana, into the world, and she's absurdly cute. While the couple is dealing with boatloads of drama themselves, this photo of Ronnie Magro's daughter is so cute that it might just make you forget about the cringeworthy situation he and Jen Harley are currently involved in.
Harley took to Instagram to celebrate Ariana's first full month on earth. She made sure not to include Ronnie in her caption, and instead gushed about how amazing it is to be a mom to a little girl, which was ultra cute TBH. On May 2, Harley wrote:
Baby girl is 1 month old today ! Having a daughter is such an amazing feeling , changes your whole out look on life and how you want to be as a person , I love this girl more than anything and just want to be the best mom I can be to her 💞🦋🤱 #mylovemylifemyeverything#mamasgirl#angelbaby#1monthold#arianasky
The photo that she posted of her daughter will make you stop everything that you're doing. Lil' Ariana is all bundled up in a pink blanket, and shows off her beautiful eyes, chubby cheeks, and an enviable head of hair:
See, don't photos of babies lift your spirits up by at least one million percent? And what the world needs right now is more of this, because the drama that's been going on recently between Magro and Harley is prettty intense. On April 29, Magro shared a post on his Instagram story that said:
Note to self, can't turn a natural born HOE, into a HOUSEWIFE, if you find them in the gutter then leave them in the gutter," he wrote. "Not all people can be saved when they are so far gone. All you can say you did ur best and keep it moving.
That's bad, but it gets worse. Magro followed up his post by asking fans to give their opinions in a poll about keeping sex tapes with ex-lovers. Yep, he went there.
He wrote, "If your significant other keeps sex videos of their ex, shouldn't they show enough respect to delete them, esp after being in a new relationship for over a year," he asked, along with the hashtag #GiveMeYourThoughts.
Harley fought back, and posted to her own Instagram story shortly after. "Can't turn a coke head into a father!" she wrote. "Yeahhh buddy."
Elite Daily reached out to Magro's team on behalf of both him and Harley for comment on the allegations of drug use and a sex tape, but did not hear back by the time of publication.
Perhaps realizing he took things a bit further than necessary, Magro apologized on April 30 through his Instagram story, writing, "I want to apologize for earlier to my fans, and especially @tater_tot_kitty I acted on my gut and not rationally. I should've never acted in such a manor [sic]. My deepest apologizes [sic]."
Ugh. None of this is pretty, you guys. Where's the funny, fist-pumping Ronnie we used to know and love? What I'd give for life to be as simple as "GTL" again.
According to a source, E! News reports that the two are currently still living together while figuring out how to navigate their separation now that they have a child. The source said:
He apologized for everything and admitted where he had been wrong but he also wants whats best for his daughter and he realizes this is not a healthy environment for her. They have split but for now they are both living in his Las Vegas house. Jen will most likely be moving out.
All of this is beyond sad, especially for their daughter, but I hope that both Magro and Harley will do everything in Ariana's best interest.