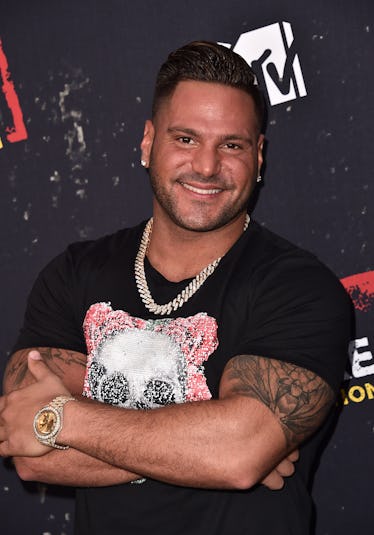 Ronnie Magro's Instagram With Jen Harley Proves They're Trying Hard To Make Things Work
Alberto E. Rodriguez/Getty Images Entertainment/Getty Images
Ronnie Magro and Jen Harley are doing everything they can to make their relationship work. The usually combative couple has seen a lot of ups and downs over the last few months, but thanks to their four-month-old daughter, it looks like they're on the road to relationship recovery. And a trip to Puerto Rico is proving it. The couple headed out to San Juan for a friend's wedding and their trip looked pretty amazing. An Instagram photo of Ronnie Magro and Jen Harley showed them relaxing on the beach with their daughter, so things seem to be going well.
Magro posted the photo to his Instagram Story on Sunday, Aug. 12, with several hashtags including #Prweddings, #PrFamily, and #PRFamilyVacation. So, this is definitely a great sign for the couple.
In the photo, the couple is relaxed and all smiles on the shores of Puerto Rico. Magro has one arm around Harley and he's holding their baby, Ariana Sky, with the other.
While Magro and Harley have had a rocky few months since baby Ariana was born in April, a source recently told E! News that they're back together and doing their best to make the relationship a happy, healthy, and productive one. Elite Daily has reached out to Magro's team for comment on the reported status of their relationship, but has not heard back at the time of publication.
Here's the happy family relaxing at the beach in Puerto Rico:
Baby Ariana Sky has her own Instagram account and her parents are making the most of her first trip to Puerto Rico:
"They've been quiet about it but it's been about a month now," the source told E! News of Magro and Harley's recent reunion. "They want peace and they want things to work out for the baby's sake."
Sounds like Magro and Harley have their hearts in the right place. And that's a good thing, considering how rough the last few months have been for them. The couple split in April 2018 just a few weeks after Ariana Sky was born. They were involved in a huge dispute on social media that forced their relationship to take a turn for the worse. They remained peaceful until June when they were entangled in a domestic dispute in Las Vegas that resulted in Harley's arrest.
Although their recent troubles are enough to force any two people apart, Magro and Harley have essentially recommitted themselves to each other. They celebrated the Fourth of July together and have been attached at the hip ever since.
In addition to experiencing relationship woes in recent months, the couple has been filming for Jersey Shore: Family Vacation. According to E! News' source, the show will be "crazy" thanks to all the drama in the relationship.
E! News' source revealed, "There was so much up and down with them, so much drama, and the cameras caught a lot of it."
So, that's something to be on the lookout for. In the meantime, it seems that Magro and Harley are focusing all their energy on spending time with each other and with their daughter. With any luck, Magro and Harley will resolve all their differences and make the most of their relationship.