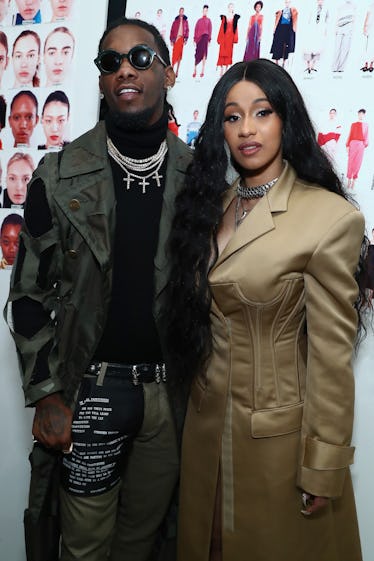 This Photo Of Offset's Kulture Tattoo Shows How In Love He Is With His Daughter
Astrid Stawiarz/Getty Images Entertainment/Getty Images
Talk about being a committed father. Offset just got a permanent homage to his daughter, Kulture, on his body and it's pretty extreme. Yes, I'm talking about a tattoo, and no, not just your average tattoo. I'm talking about a face tat, you guys. Like... on his face. The Instagram photo of Offset's Kulture tattoo is equal parts shocking and artistic, and certainly shows how much this man loves his baby girl.
Offset welcomed Kulture Kiari Cephus into the world with his wife, Cardi B, on July 10, 2018. According to TMZ, he also has his sons' names inked on his body. His youngest son's name, Kody, is tattooed on the opposite cheek of Kulture, and his eldest son's name, Jordan, can be found stamped across his shoulder. Obviously, Cardi B's name has some body real estate too, taking up space on Offset's neck.
One big happy tattoo family.
The new art piece was revealed on Sept. 4 via Bricks Tattoo's Instagram account. In the image, Offset is proudly displaying the fresh ink, and truthfully, that tattoo artist nailed it. Objectively, the font and line-work is pretty awesome. Bricks Tattoo captioned the photo:
Been on the road with this guy for the last..? I don't know how many days 😁 Every once in a while you run across a real one 👍👍 Thanks @offsetyrn for the confidence, inspiration, and opportunity to shine. Could've chosen anyone in the world, but you chose to "build with Bricks" Now its on!!! #brickstattoolifr#WIREDINTATS!!!!
You guys ready for this?
Hello, gorgeous.
Clearly, Offset isn't new to face tattoos, but something about Kulture's name definitely stands out among the others. He also showed it off in a series of his own Instagram videos and snaps.
Today, fans are still waiting for a glimpse of Baby K. So far, her parents have only teased her reveal, showing us her little tootsies and hands but nothing else. For a brief, beautiful moment, fans thought Cardi B brought Kulture on stage with her at the 2018 MTV Video Music Awards. Alas, she was only joking, and was actually carrying a Moonman award wrapped up in a blanket.
However, the camera did manage to catch Offset's face, and he was clearly not in on the joke. Cardi B later set the record straight on Twitter explaining, "Why Set said i was sooo mad, when i saw you on stage with that blanket I thought you was going to show Kulture."
Clearly, privacy is important to the growing family right now.
Recently, Cardi B shared a picture of her hand next to Kulture's hand, but no signs of her little face yet. Cardi B captioned that photo, "I needed a girl like you.🎀KK."
For now, Offset's face tat will just have to carry us through while we wait for the real Kulture to please stand up. In the meantime, I'm going to screenshot Offset's face and send it to my dad and ask him why he doesn't love me this much.
Nothing like a good dad joke, ya know?