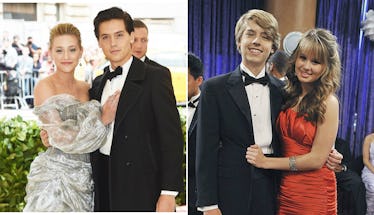 Lili Reinhart's Meetup With Cole Sprouse's 'Suite Life' Girlfriend Debby Ryan Was Epic
JAMIE MCCARTHY/GETTY IMAGES ENTERTAINMENT/GETTY IMAGES & Disney–ABC Domestic Television
Nothing gets me going in the morning like young celebrity social circles crossing over into each other. Such is the case with Riverdale and The Suite Life On Deck cast members. You might already be drawing the main connection between these two shows which is, of course, actor Cole Sprouse. Sprouse played Cody Martin on the Disney Channel series and is currently breaking hearts and taking names as Jughead Jones on the CW thriller, Riverdale. Thanks to New York Fashion Week, stars from both television shows ran into each other, including Sprouse's onscreen girlfriends. There's a photo of Lili Reinhart and Debby Ryan chilling together like two regular ol' pals and it's giving Cole Sprouse fans LIFE!
Walk with me, won't you?
Sprouse and his twin brother Dylan are known for their roles as twin brothers Zack and Cody on the show The Suite Life of Zach and Cody and its spinoff series, The Suite Life On Deck. During Sprouse's time on The Suite Life on Deck, he worked with actress Debby Ryan who played his onscreen girlfriend, Bailey Pickett. Since the series ended, Ryan and Sprouse have maintained a serious friendship. The two regularly pop up on one another's social media feeds, and Ryan has even been the subject of Cole's photography sessions, too.
In real life, Lili Reinhart and Cole Sprouse have been getting closer and closer as a rumored romantic couple, though they've maintained a definite sense of privacy and mystery. In fact, neither actor has confirmed their relationship, but fans have been busy shipping them anyway thanks to an ongoing series of flirty social media posts together, plus a few red carpet appearances, yada-yada. In fact, Sprouse just posted a picture nearly kissing Lili Reinhart on his Instagram account and it has fans losing their minds. Elite Daily previously reached out to both Reinhart and Sprouse's teams for comment on their relationship status, but did not hear back by the time of publication.
For all the reasons, it's so much fun to see Lili Reinhart and Debby Ryan hanging out together. Oh yeah, Riverdale co-star Camila Mendes was there, too. (FUN!) Reinhart shared this epic photo with both Mendes and Ryan on her Instagram story.
Like, where are you guys going?! What are you up to?! Can I come?! Should I bring snacks?!
Ryan and Mendes met up on their own at NYFW, too. Mendes shared a series of photos and videos of them hanging out in gorgeous clothing and awesome glam.
All of this would be fascinating enough if Cole Sprouse's twin brother, Dylan, never made an appearance — BUT IT GETS BETTER.
Dylan also popped by NYFW and snapped this photo with his brother's other Riverdale costar, Hart Denton, who is known for his role as Chic Cooper. Dylan captioned the photo "knife fight," which might be an inside joke or something only die-hard fans know about.
Regardless, I'm INTO the hair gel, here.
Somewhere, Cole Sprouse must be feeling serious FOMO. Who wouldn't feel left out when their real-life brother, maybe real-life girlfriend, definite real-life friends, and onscreen love interest are all hanging out without them?
Man. It's so hard to be Cole Sprouse, eh?